PART 3: Back on the road - South East Asia.
---
Kuching, Malaysia, August 6, 2010
---

Arrived in Kuching, my last Borneo destination. The boat ride was smooth and I spent all four hours on the deck. No more airconditioning! I hate it!!

Borneo has been a bad luck for me in a way. I saw a few cool things, experienced different places and cultures, but I had to give up on a few main planned events. The first one would be diving. I flew from Jakarta to Kota Kinabalu, but my ears got plugged on the plane. They stayed this way for almost a week and a half, so diving was out of the question. Then climbing Mt. Kinabalu. It's been booked for three weeks in advance, and I am not up for climbing it and descending in one day. Plus, groggy from the medications whoich don't help, I had n o energy for not just this but anything else.

Also, Borneo is not a backpackers place. Sure, you can find hostels and somewhat reasonable accommodation, but overall this place is expensive. There are no buses from the airports at night. The service stops at 6 PM or earlier. There are no buses from the boat terminals. Basically, when you arrive at a new place you need a taxi. And what you pay adds up. Too expensive for a backpacker. The attractions - same thing. Most need special transport, arrangements. South America was easier to travel.

Another aspect is the people. Not that they are bad or anything like that. While it will feel exotic for some, for me, being amongst Chinese is like being back in Canada. Chinese food? Had it almost every day back in Vancouver. So, Borneo has been a mix bag of experiences. Am I glad I came here? Honestly, knowing that I will get sick and not be able to go diving and climbing, and do all the other stuff which you can do going to those places, I'd probably skip Borneo for now. It wasn't a good value for the money. On the other hand, now I have an idea what it's like here, what to expect. The next time around I will know my ways and being selective it should be much easier.



Photo: Kuching, Malaysia. Well, this photo is still in Sibu. This is my boat to Kuching. It leaves at 11:30 and cost 45 Ringgit.



Photo: Sibu/Kuching, Malaysia. The boat terminal in Sibu from the place where I was sipping hot milk coffee and waiting for the boat.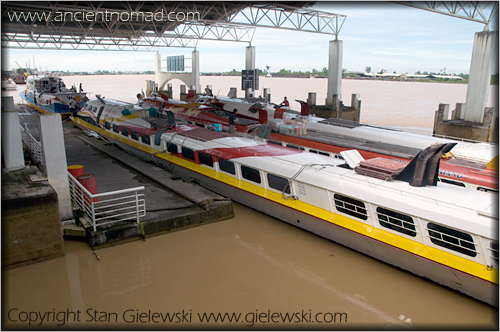 Photo: Sibu/Kuching, Malaysia. The boats going to Kapit are really long and narrow.



Photo: Kuching, Malaysia. On the way to Kuching. The river is pretty wide, and there are full size ships on it along the way.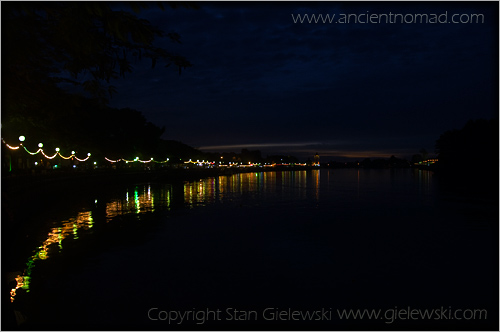 Photo: Kuching, Malaysia. After arriving - no public bus to the city. Nothing new. They should definitely improve that. I shared a taxi but still paid 15 Ringgit. Got to the hostel and took a strall around the city. Nice waterfront at night. This is my first photo of Kuching, and I am up date! Well.. I will have to go back and post entries from past places like Indonesia, Bali, but at least I am writing about what happened today. I like it this way. It's frfesh. Here and now, when time stands still. At least for a day.



My life has always been about freedom and I shall continue to walk this path.
Safe travels ! ........... Stan


---
Check out my Photography Portfolio


Main Page ● Links

---
stan@ancientnomad.com
My Photography Page


2011
November:
October:
September:
August:
July:
June:
May:
April: 11 10-3 10-2 10-1
March:
February:
January: 15 06-11 06-10 06-9 06-8 06-7 06-6 06-5 06-4 06-3 06-2 06-1 05 03-6 03-5 03-4 03-3 03-2 03-1 02
2010
December: 29 23-28 22-2 22-1 20-2 20-1 19 18-2 18-1
November: 01-4 01-3 01-2 01-1
October: 31 23 22 20 17 11 09-2 09-1 08 02 01-6 01-5 01-4 01-3 01-2 01-1
September: 29 28 27 25-2 25-1 20-24 23 18 13 12 11-3 11-2 11-1 10-2 10-1 7 4 3-2 3-1 2
August: 31 30 29 28 27 26 25 24 21-22 20 18 17 16 15 14 13 12 10-11-1 9 6 5 3 2 1
July: 31 30 29 17 9 7 6-2 6-1 5-2 5-1 4-2 4-1 2 1
June: 30 24
May: 12 9
April: 25-26 12
March: 7 2
February: 28 26 24 22 21 16-17 15 14 13 10-12 08
May:
April: 11 10-3 10-2 10-1
March:
February:
January: 27 19 13 12 8-2 8-1 7 6 5 3 1-2

2009
December: 31 30 29 28 26-27 24 20-23 19 17-18 16-17 13-14 1-13

2010



---