PART 1: Escape from Vancouver freeze & the Mexico couch surfing experiment - Dec. 13 - Jan. 9 2010
---
Vancouver, Canada - December 13, 2009
---

Now I am on the bus - there is no way back. I feel excited again. Seeing the lamp posts, the trees pass me by makes me feel alive. I think I have the greatest hobby one could have - I am a passenger, an observer. I am looking forward to the new experiences and what I will learn. There is always something new.



Photo: Boarding the Grayhound Bus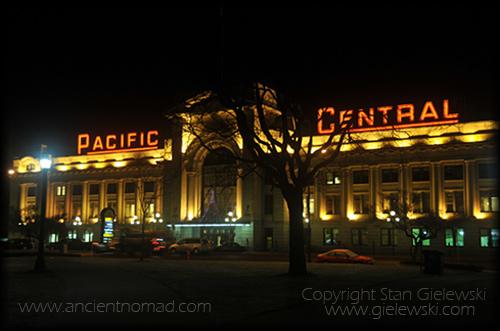 Photo: This is where to take the Grayhound bus to Seattle, the Vancouver Terminal Station on Main & Terminal


---
Vancouver, Canada - December 12, 2009
---

Yesterday I bought the plane ticket to San Diego, and today the Greyhound bus to Bellingham - this is where I will be flying from. I was going to get there by local buses, but there might be a problem with local connections and if there is no bus there is no way for me to get to the airport, so I had to play safe this time. Whenever I can I always travel by bus or boat. I try to avoid planes. I don't have a fear of flying, but bus rides, and especially the boats, leave me with a much better travel experience. I get to see the scenery, meet the local people and eat local foods. Usually buses are much cheaper than planes, and I have all the time in the world! If I could only say it about the money, ha ha I will fly this time though. This is one of the exceptions when flying is cheaper - and I am on a budged. I have been lucky so far. ( $134 return ticket Bellingham - San Diego - Bellingham )


---
Vancouver, Canada - December 11, 2009
---

I have been trying to arrange a place to sleep in January, after I come back, and today was my lucky day! I already have given up on it, but I got an email and today after meeting the person I got a confirmation that I will be able to do house sitting for her for the most of the January - the time when she and her son travel. The dates fit almost perfectly, so I will have a warm place from the very first night coming back, until I start the job ! I will be also sharing the space with two friendly cats - a nice bonus. By coincidence, today is my birthday. I stopped celebrating it years ago, but I must say this was an awesome birthday present. The dots have been connected, and considering that the job will also come with accommodation - I am already feeling safe and warm :)


---
Vancouver, Canada - December 10, 2009
---

All I can say is - wow! This actually might work ! I got confirmations about sleeping spaces available in San Diego and Tijuana. There is also one person who might host me in Ensenada. Needless to say, I saw the light. The people who answered seem very interesting and welcoming. I am sure we will have common subjects to talk about. Travel and arts will definitely be on the agenda, but like with most people who have been around -life will definitely be on the menu. I am looking forward to meeting them. It will be also great to meet someone local as they will always have some good tips where to go and what to see. I have a feeling that this can actually change my way of traveling. It would be a profound experience for me in every way - I would be saving on hotels and at the same time getting to know local people and make friends. This way I could travel further and richer. I am glad to be broke.


---
Vancouver, Canada - December 08, 2009
---

I have a job on the horizon starting at the end of January, so I have been trying to figure out how to survive till then. The job situation in Vancouver is not good. Victoria is even worse. It is expensive, and while I managed to pick up a few dollars, mainly doing extras in the movie industry, I don't have enough to make any plans for this next wait. There are no job promises and no housing, so I have been trying to figure out how to stretch what I have. Having traveled for a long time I am used to looking for a cheap deal, and I am quite resourceful at that. I spend a month at a friend's place in Surrey. Gilberto and family are in a tight spot themselves, but they turned out to be the best friends a person can have. The small two bedroom apartment accommodated him, his wife, his brother and his wife, a baby and Angel - a super-dog and me for the whole month and all was great! I owe them a big 'thank you', and one day I will repay the favor. Unfortunately I couldn't stay there longer because the owner of the house did not like me for a mysterious reason, which is sad because we never even had a chance to get to know each other despite me trying. Apparently she doesn't trust 'strangers'. Oh well, it's not the end of the world. Having not much time to figure out where to go and what to do, I have been playing with the idea of finding a place which I could afford. It is either pay for a room in Vancouver and have no food, or eat and have no place to sleep. So I decided to compromise - and have both! I did a little research and set my sights on Mexico. It turns out that I can fly to San Diego quite cheap and from there cross on foot to Tijuana, like I did before. Slowly, putting the information together, I came to the conclusion that while it is somewhat a crazy solution, I am a backpacker and a nomad and this is just something that makes sense. I have been usually sleeping in cheap hostels or hotels. This time I tried something new - couch surfing. I joined their web site and send messages to potential hosts. Let's see the results.


---
Vancouver, Canada - December 07, 2009
---

I am in Vancouver. It's getting cold and while the temperatures don't drop more than the usual every day average, I am feeling colder every day. I am staying for a few days sleeping on a mattress at a place of a guy I met on a movie set a few years ago. I don't have the key and I Have to wait for him till he comes back, and get out when he leaves early in the morning. It turns sometimes into waiting outside in -7 for an hour and a half in the middle of night outside his place. The corner gas stations are locked at night for security, and I don't have any winter clothes so I am being reminded what it means being 'chilled to the bone'.


---
Vancouver, Canada - December 1, 2009
---

It has been exactly two years since I left on this trip. Honestly, there are not many people I met who traveled this long - most were hitting the pavement for a few months only, maybe half a year. Then there were a few who had a year worth of mileage. Certainly, I am a rare species.





My life has always been about freedom and I shall continue to walk this path.
Safe travels ! ........... Stan






---
Check out my Photography Portfolio



Main Page ● Links

---
stan@ancientnomad.com
My Photography Page


2011
November:
October:
September:
August:
July:
June:
May:
April: 11 10-3 10-2 10-1
March:
February:
January: 15 06-11 06-10 06-9 06-8 06-7 06-6 06-5 06-4 06-3 06-2 06-1 05 03-6 03-5 03-4 03-3 03-2 03-1 02
2010
December: 29 23-28 22-2 22-1 20-2 20-1 19 18-2 18-1
November: 01-4 01-3 01-2 01-1
October: 31 23 22 20 17 11 09-2 09-1 08 02 01-6 01-5 01-4 01-3 01-2 01-1
September: 29 28 27 25-2 25-1 20-24 23 18 13 12 11-3 11-2 11-1 10-2 10-1 7 4 3-2 3-1 2
August: 31 30 29 28 27 26 25 24 21-22 20 18 17 16 15 14 13 12 10-11-1 9 6 5 3 2 1
July: 31 30 29 17 9 7 6-2 6-1 5-2 5-1 4-2 4-1 2 1
June: 30 24
May: 12 9
April: 25-26 12
March: 7 2
February: 28 26 24 22 21 16-17 15 14 13 10-12 08
May:
April: 11 10-3 10-2 10-1
March:
February:
January: 27 19 13 12 8-2 8-1 7 6 5 3 1-2

2009
December: 31 30 29 28 26-27 24 20-23 19 17-18 16-17 13-14 1-13


---