PART 1: Escape from Vancouver freeze & the Mexico couch surfing experiment - Dec. 13 - Jan. 9 2010
---
Enseneda, Mexico - December 23, 2009
---

A really great day today - sunny and much warmer. I went outside a few times and sat on the beach.



Photo: Ensenada - The Coastline, a view from where I am staying

The beach here is made from round stones. I am not sure if that's the stones or the water, but the combination of both makes a really pleasant sound when the water flows back to the ocean after hitting the shore, sort of like a drumming - rattling noise. Sitting there on the pebbles, with bigger waves you can feel the ground trembling, like a small earthquake.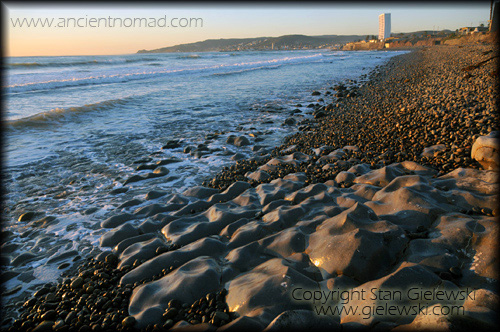 Photo: Ensenada - Rocks at the beach during sunset.

I went a little further and found a cool spot from which I was able to take a few shots of some rocks - quite an impact ! It was a good day.



Photo: Ensenada - Beach splashes


---
Enseneda, Mexico - December 22, 2009
---

I arrived in Ensenada a couple days ago. The first day seemed already warmer - I was moving South after all. But the next day... freezing ! I thought I was back in Canada ! The temperature wasn't that low, but right by the ocean with strong winds it felt really cold.

I also had food poisoning from tacos in Tijuana and it made things worse. I was still doing better than my previous host who was throwing up. With the help of my old friend, medicine called Buscapina, I got myself in better shape soon.

My host in Ensenada, Fabricio, is a great easy going guy. He just opened a restaurant and treated me for food and beer. A great welcome and thank you ! :)



Photo: Ensenada - Sunset at the Beach


---
Playas de Tijuana, Mexico - December 20, 2009
---

I am at the Starbucks for a morning coffee. It was a bit gloomy at around 9 am, but the sun is out again.

Yesterday I did some more research as to where will I go next and tried to get the next couch. I wrote a few people, and on this short notice I managed to get one right away ! So I know where I will be sleeping tonight.

It takes about one hour from Tijuana to Ensenada, which is South. I think I will be able to sleep for three nights there, and hopefully get another place for three nights more. Then, I think, I will take the bus to San Felipe, which is on the East side of the Baja Califronia and a bit further South. It is supposed to be warmer and with lots of seafood to choose from. I also heard that I will be able to pick my own clams from the ocean. I used to do it in Japan and I am looking forward to it.

Before I go I will take another walk on the beach. I should be doing it more often, but then I will do it in Ensenada and San Felipe. I enjoy just sitting outside and resting - you can't do it in Canada now ! And also need time to do this blog and work on the photos, so it's perfect.

I am looking at the graphic at the top of my blog and I realize that I am not relating to it the same way as I was just a week ago. I was freezing and miserable and it freaks me out a little now that I am in warmer weather. I like it, and it is interesting to see how weather and surroundings can affect a person's mind. I will have to change it to something else.





My life has always been about freedom and I shall continue to walk this path.
Safe travels ! ........... Stan


---
Check out my Photography Portfolio


Main Page ● Links

---
stan@ancientnomad.com
My Photography Page


2011
November:
October:
September:
August:
July:
June:
May:
April: 11 10-3 10-2 10-1
March:
February:
January: 15 06-11 06-10 06-9 06-8 06-7 06-6 06-5 06-4 06-3 06-2 06-1 05 03-6 03-5 03-4 03-3 03-2 03-1 02
2010
December: 29 23-28 22-2 22-1 20-2 20-1 19 18-2 18-1
November: 01-4 01-3 01-2 01-1
October: 31 23 22 20 17 11 09-2 09-1 08 02 01-6 01-5 01-4 01-3 01-2 01-1
September: 29 28 27 25-2 25-1 20-24 23 18 13 12 11-3 11-2 11-1 10-2 10-1 7 4 3-2 3-1 2
August: 31 30 29 28 27 26 25 24 21-22 20 18 17 16 15 14 13 12 10-11-1 9 6 5 3 2 1
July: 31 30 29 17 9 7 6-2 6-1 5-2 5-1 4-2 4-1 2 1
June: 30 24
May: 12 9
April: 25-26 12
March: 7 2
February: 28 26 24 22 21 16-17 15 14 13 10-12 08
May:
April: 11 10-3 10-2 10-1
March:
February:
January: 27 19 13 12 8-2 8-1 7 6 5 3 1-2

2009
December: 31 30 29 28 26-27 24 20-23 19 17-18 16-17 13-14 1-13

2010



---