PART 3: Back on the road - South East Asia.
---

Route Map
Phnom Penh, Cambodia » December 18, 2010
---
Almost 16:00 and finally Phnom Penh. The trip took much longer than I thought. It was the fast boat, and from 7:30 am, when I was told it leaves, it took about 8 hours. And that's what the slow boat was supposed to take. Go figure. It was enjoyable, and that's what counts.
There was a guy on the ship and he walked around trying to sell sightseeing trips or hotel rooms. He was from Capitol Agency, connected to Capitol Guest House. I usually don't go for these things, especially when they seem too good, but it sounded legit and I went for it. You can't go wrong with a room for $3 a night, free pick up included. So I booked one night. It turned out to be good. I will use the Capitol Guest House again.
Actually, this agency is pretty good. Good bus prices and sightseeing. I went to see the Killing Fields for just $3, and that's 15 km outside Phnom Penh. It's really good. And the restaurant downstairs is also cheap. White coffee 2000 Reil. Not bad, not bad.
Phnom Penh is a nice city. It gets nicer the longer I stay here. The constant 'moto' or 'tuk tuk' taut's are annoying, but otherwise there are some nice areas here. There are busy streets, like the one below, and huge open parks. Also, the waterfront along the Mekong Rover is really nice. I usually stop by the Pink Elephant restaurant where they sell draft Angkor beer for 50 cents, and wait till a real elephant walks by on the street. Pink elephant has also awesome food. The incredible seafood salad is $3.50, and Florentine sea bass, with cheesy sauce goes for $4.50. It's expensive comparing to a dollar or two meals, mostly noodle soups, but either of them is a really filling meal, and has the all the desired nutrition.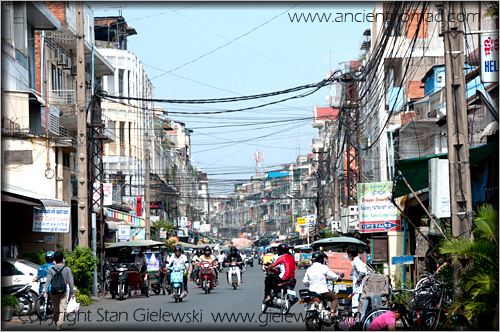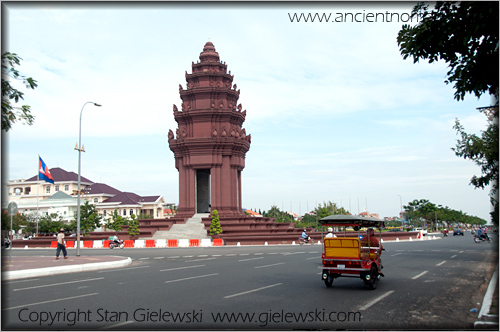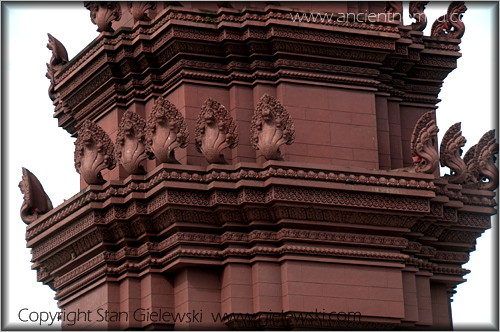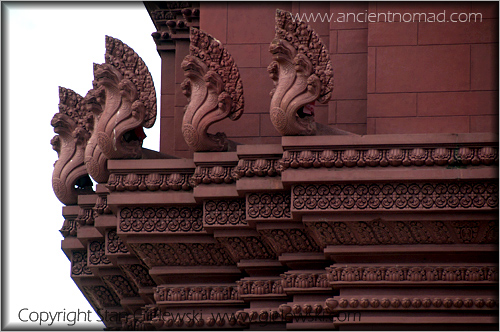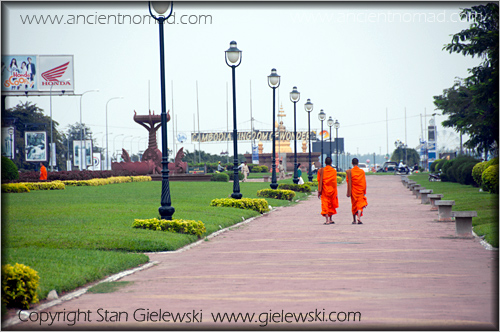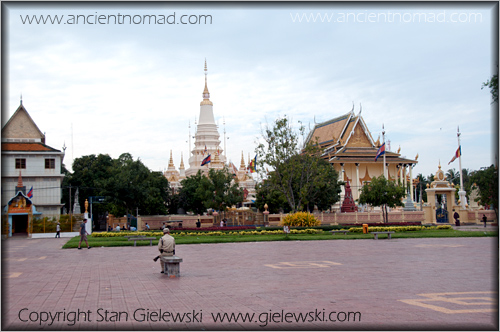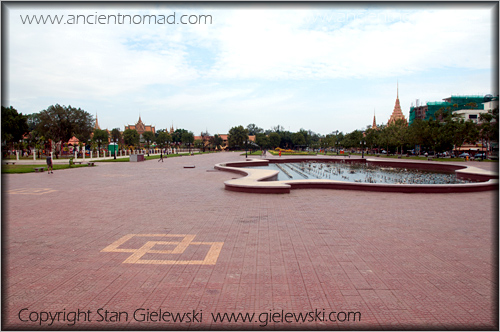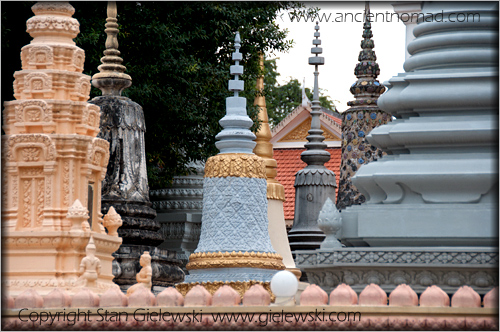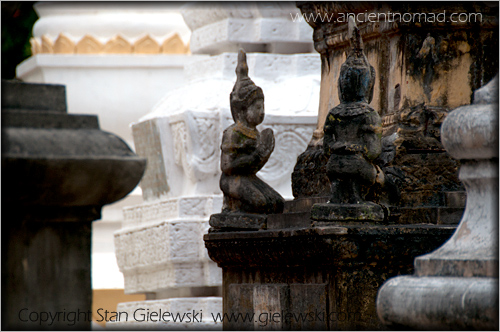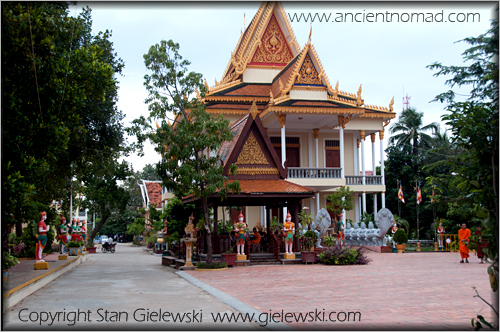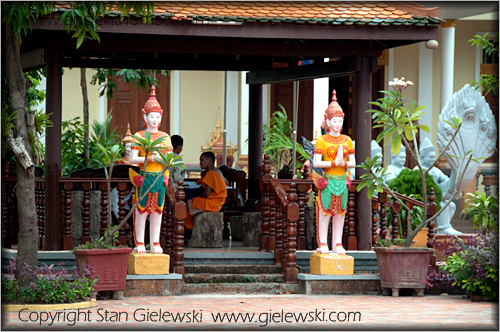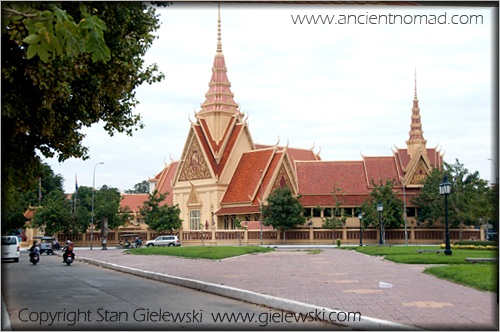 My life has always been about freedom and I shall continue to walk this path.
Safe travels ! ........... Stan


---
Check out my Photography Portfolio


Main Page ● Links

---
stan@ancientnomad.com
My Photography Page


2011
November:
October:
September:
August:
July:
June:
May:
April: 11 10-3 10-2 10-1
March:
February:
January: 15 06-11 06-10 06-9 06-8 06-7 06-6 06-5 06-4 06-3 06-2 06-1 05 03-6 03-5 03-4 03-3 03-2 03-1 02
2010
December: 29 23-28 22-2 22-1 20-2 20-1 19 18-2 18-1
November: 01-4 01-3 01-2 01-1
October: 31 23 22 20 17 11 09-2 09-1 08 02 01-6 01-5 01-4 01-3 01-2 01-1
September: 29 28 27 25-2 25-1 20-24 23 18 13 12 11-3 11-2 11-1 10-2 10-1 7 4 3-2 3-1 2
August: 31 30 29 28 27 26 25 24 21-22 20 18 17 16 15 14 13 12 10-11-1 9 6 5 3 2 1
July: 31 30 29 17 9 7 6-2 6-1 5-2 5-1 4-2 4-1 2 1
June: 30 24
May: 12 9
April: 25-26 12
March: 7 2
February: 28 26 24 22 21 16-17 15 14 13 10-12 08
May:
April: 11 10-3 10-2 10-1
March:
February:
January: 27 19 13 12 8-2 8-1 7 6 5 3 1-2

2009
December: 31 30 29 28 26-27 24 20-23 19 17-18 16-17 13-14 1-13

2010



---