PART 2: Back to Vancouver - surviving with a goal in mind.
---
Vancouver, Canada - February 28, 2010
---

Today was the last day of work for me. February passed so fast and it's hard to believe it's already over. Meeting many good people was the best part of this job. We were led to believe that there will be at least two months of full time work until late March, but after 21 days, in my case, it ended. I can't hide my dissapointment, but so do the other probably 95% or so of people I worked with (if that's an enough reason to feel a but better).

I will have another day for the Paralympics opening ceremony on March 12th.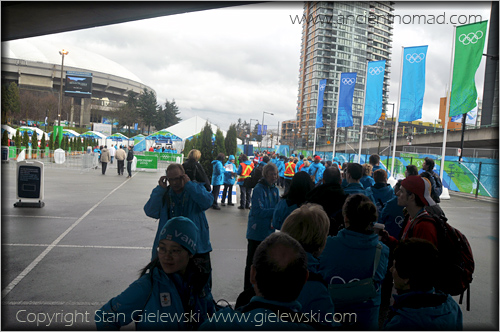 Photo: The last day of work - waiting in line to sign in.

There is a big flat screen mounted on the BC Place Stadium where the opening and closing ceremonies took place. We could see it from were we worked on the last day. Unfortunately all they were showing were looped short clips advertising the Olympics. It is very bad an sad in my opinion - it made me feel separated from the event. I saw it before the Olympics started and after they ended. It looked like what's happening is behind a closed door, apart from the city. Why not to offer a passer-by a little glimpse at what's going on ? I bet the special overpriced DVD will have it all.



Photo: The big boring flat screen.



My life has always been about freedom and I shall continue to walk this path.
Safe travels ! ........... Stan


---
Check out my Photography Portfolio


Main Page ● Links

---
stan@ancientnomad.com
My Photography Page


2011
November:
October:
September:
August:
July:
June:
May:
April: 11 10-3 10-2 10-1
March:
February:
January: 15 06-11 06-10 06-9 06-8 06-7 06-6 06-5 06-4 06-3 06-2 06-1 05 03-6 03-5 03-4 03-3 03-2 03-1 02
2010
December: 29 23-28 22-2 22-1 20-2 20-1 19 18-2 18-1
November: 01-4 01-3 01-2 01-1
October: 31 23 22 20 17 11 09-2 09-1 08 02 01-6 01-5 01-4 01-3 01-2 01-1
September: 29 28 27 25-2 25-1 20-24 23 18 13 12 11-3 11-2 11-1 10-2 10-1 7 4 3-2 3-1 2
August: 31 30 29 28 27 26 25 24 21-22 20 18 17 16 15 14 13 12 10-11-1 9 6 5 3 2 1
July: 31 30 29 17 9 7 6-2 6-1 5-2 5-1 4-2 4-1 2 1
June: 30 24
May: 12 9
April: 25-26 12
March: 7 2
February: 28 26 24 22 21 16-17 15 14 13 10-12 08
May:
April: 11 10-3 10-2 10-1
March:
February:
January: 27 19 13 12 8-2 8-1 7 6 5 3 1-2

2009
December: 31 30 29 28 26-27 24 20-23 19 17-18 16-17 13-14 1-13

2010



---