PART 2: Back to Vancouver - surviving with a goal in mind.
---
Vancouver, Canada - February 15, 2010
---

22:49. I just came back to the hotel. It's raining and it was an easy day today - not many people to take care of. I just heard the fireworks but because of the rain I will not take any photos tonight. The weather is suppose to be good, possibly sunny, in the middle of the week so I will take more cool photographs of the fireworks on Wednesday.

I worked for eight straight days so tomorrow I will enjoy my day off. I think it will be a good day to walk around, visit the outdoor Olympic torch site and take a photo of it. I will also organize the documents for my Polish passport. Hopefully it will not rain.


---
Vancouver, Canada - February 15, 2010
---

There were fireworks last night at the BC Stadium. They were quite nice and saved Vancouver's face in my opinion. I heard that there will be more every day along with the medal presentation ceremonies.

I rarely watch TV, so having cable now in my room I am catching up on news and movies. I like the '48 Hours' documentary series about real life criminal investigations. I was about to watch some TV before going to sleep, but hearing the fireworks I grabbed the camera, ran out on the balcony and started shooting photos. Naked in the cold, wrapped in the window curtain holding it's edge with my teeth so it want drop and expose my hot body (haha !!) I went to work.

I was not prepared and I don't have a tripod with me, but I still managed to grab a few acceptable stills, and a few funky ones which I will post on my Photography Web Site



Photo: Vancouver, the fireworks at the BC Stadium on the third night of the Olympics.



Photo: More Vancouver 2010 Olympic fireworks.



Photo: Vancouver fireworks.



Photo: Vancouver - fireworks, a closer look at one of the spectacular mix of colors.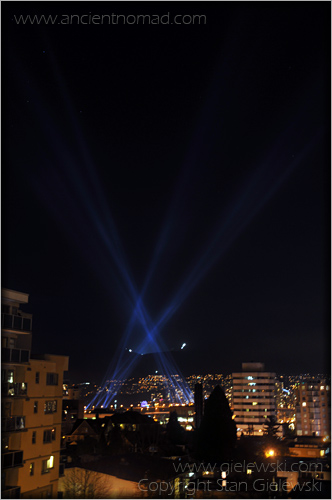 Photo: Vancouver. There are light beams shooting into the sky every night. When they hit the clouds on a gloomy night they create an image similar to northern lights, or UFO - whichever tickles your fancy.



My life has always been about freedom and I shall continue to walk this path.
Safe travels ! ........... Stan


---
Check out my Photography Portfolio


Main Page ● Links

---
stan@ancientnomad.com
My Photography Page


2011
November:
October:
September:
August:
July:
June:
May:
April: 11 10-3 10-2 10-1
March:
February:
January: 15 06-11 06-10 06-9 06-8 06-7 06-6 06-5 06-4 06-3 06-2 06-1 05 03-6 03-5 03-4 03-3 03-2 03-1 02
2010
December: 29 23-28 22-2 22-1 20-2 20-1 19 18-2 18-1
November: 01-4 01-3 01-2 01-1
October: 31 23 22 20 17 11 09-2 09-1 08 02 01-6 01-5 01-4 01-3 01-2 01-1
September: 29 28 27 25-2 25-1 20-24 23 18 13 12 11-3 11-2 11-1 10-2 10-1 7 4 3-2 3-1 2
August: 31 30 29 28 27 26 25 24 21-22 20 18 17 16 15 14 13 12 10-11-1 9 6 5 3 2 1
July: 31 30 29 17 9 7 6-2 6-1 5-2 5-1 4-2 4-1 2 1
June: 30 24
May: 12 9
April: 25-26 12
March: 7 2
February: 28 26 24 22 21 16-17 15 14 13 10-12 08
May:
April: 11 10-3 10-2 10-1
March:
February:
January: 27 19 13 12 8-2 8-1 7 6 5 3 1-2

2009
December: 31 30 29 28 26-27 24 20-23 19 17-18 16-17 13-14 1-13

2010



---