PART 2: Back to Vancouver - surviving with a goal in mind.
---
Vancouver, Canada - February 22, 2010
---

Today I had a day off and went on a trip to North Vancouver. It's been a long time since I had been there and after all the seafood I had and seen South the border, I wanted to see how the Lonsdale Market has evolved.

To get to North Van you have to take the Seabus from the Waterfront ferry terminal in downtown Vancouver.



Photo: Vancouver. The Seabus - a ferry to North Vancouver.

The market has a selection of local seafood, which you can buy to cook at home or taste prepared on the spot. The selection is poor in comparison to let's say Mexico, but still there were a few of my favorites there. You can buy smoked salmon, ask for steamed oysters or crab, have clam chowder or a variety of calamari, mussels or octopus salad.



Photo: North Vancouver Vancouver. Lonsdale Market.



Photo: North Vancouver Vancouver. Lonsdale Market.

Octopus is an amazing animal, but unfortunately for octopus I also like how it tastes. I love the texture and the fact that you can just chew on it and don't worry about bones. Soon after I arrived they just displayed one that was freshly caught. The store person told me that this was the biggest he has seen. I am hoping that one day I will be able to meet them on a diving trip, but I will wait for that till summer.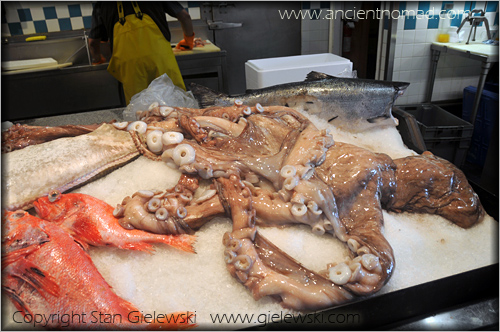 Photo: Pacific octopus.



Photo: Pacific octopus - look how big it is !



Photo: If you ever wanted to see octopus suckers from up-close here is your chance ;)

While at the market, I went for a bit of smoked salmon and a steamed oyster.



Photo: North Vancouver. Steamed oyster.

My life has always been about freedom and I shall continue to walk this path.
Safe travels ! ........... Stan


---
Check out my Photography Portfolio


Main Page ● Links

---
stan@ancientnomad.com
My Photography Page


2011
November:
October:
September:
August:
July:
June:
May:
April: 11 10-3 10-2 10-1
March:
February:
January: 15 06-11 06-10 06-9 06-8 06-7 06-6 06-5 06-4 06-3 06-2 06-1 05 03-6 03-5 03-4 03-3 03-2 03-1 02
2010
December: 29 23-28 22-2 22-1 20-2 20-1 19 18-2 18-1
November: 01-4 01-3 01-2 01-1
October: 31 23 22 20 17 11 09-2 09-1 08 02 01-6 01-5 01-4 01-3 01-2 01-1
September: 29 28 27 25-2 25-1 20-24 23 18 13 12 11-3 11-2 11-1 10-2 10-1 7 4 3-2 3-1 2
August: 31 30 29 28 27 26 25 24 21-22 20 18 17 16 15 14 13 12 10-11-1 9 6 5 3 2 1
July: 31 30 29 17 9 7 6-2 6-1 5-2 5-1 4-2 4-1 2 1
June: 30 24
May: 12 9
April: 25-26 12
March: 7 2
February: 28 26 24 22 21 16-17 15 14 13 10-12 08
May:
April: 11 10-3 10-2 10-1
March:
February:
January: 27 19 13 12 8-2 8-1 7 6 5 3 1-2

2009
December: 31 30 29 28 26-27 24 20-23 19 17-18 16-17 13-14 1-13

2010



---