PART 1: Escape from Vancouver freeze & the Mexico couch surfing experiment - Dec. 13 - Jan. 9 2010
---
Ensenada, Mexico - January 03, 2010
---

A fantastic day today ! I was just talking to my friend in Poland and he said it's -10 there. Wow ! I am really getting used to this warm weather here. The first few days were really cold, just a few degrees above zero, but these days it is always sunny and basically almost summer. I walk wearing a t-shirt and it feels absolutely surreal that in just a few days I will be facing snow and freezing temperatures in Vancouver. Yet again. I hope this will be my last winter. Ever !



Photo: Ensenada - A great walk on a sunny day like today.

So I went today for my usual fix of ceviche on tostada. It cost 10 Pesos - roughly 80 cents. I usually have three of them and it's my breakfast. Fresh, low calories and basically healthy. It's a mix of small chunks of fish (tuna), onion, tomato, cilantro, lime, topped with slices of avocado. I also asked for a lick a mayonese on tostada, and then used a bit of hot salsa and ketchup. I used salsa Amor. Mmmmmm :)

Ceviche is different here from ceviche in other countires, like Ecuador, Peru, Chile or Bolivia. In those countries they use bigger chunks of fish and ceviche is more sour. It is more like cocktail here - chunks of whatever seafood you want in a cup. In Mexico, at least in Ensenada, they use lots of ketchup and different salsa with it, so in taste it becomes closer to Clamato with all this delicious seafood in it. I like the Mexican style better. Ceviche in some of those other countries was basically too sour for my taste, and I always liked Clamato. Mexico wins :)



Photo: Ensenada - Ceviche Mexican style. I don't know how I am going to survive without this.



Photo: Ensenada - Mariscos street stand. This is where you get yours daily fix of ceviche or a cup full of octopus, clam and shrimp cocktail.

I also went to eat baked clam with cheese and shrimp. It is quite big. I forgot it's name, but it was at a restaurant called Los Primos and it was delicious ! Today, while at Starbucks, I met again a couple whom I knew from Fabricio's restaurant. They suggested this one place called Los Primos and the clam. Great tip ! It was simply awesome. Cost - 39 Pesos (about 3 dollars).



Photo: Ensenada - Clam with cheese and shrimp at Los Primos. Half of it already gone - by me :)

Ensenada is definitely a heaven for seafood lovers. All kinds of fish, lots of shrimp and one of my all time favorites - pulpo, the octopus. The fish market is not big, but you can find many kinds of fish there. Ensenada is high on my list of come-backs. I used to think like this of Arica in Chile, but again - Mexico wins ! The next time I will find a place where I can cook and experiment with seafood. Below just a few random photos from the Mercado de Mariscos.



Photo: Ensenada - Mercado de Mariscos, the Fish Market.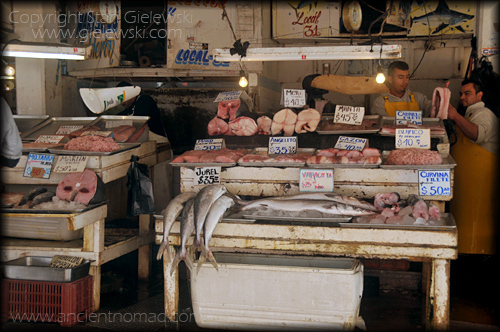 Photo: Ensenada - Mercado de Mariscos, the Fish Market.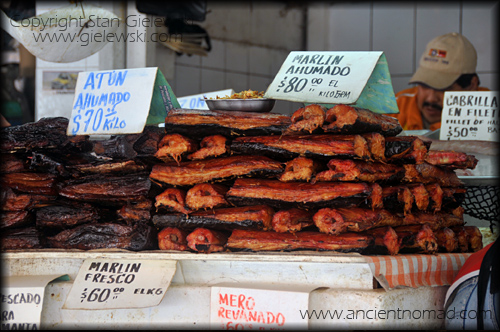 Photo: Ensenada - Mercado de Mariscos, the Fish Market. Some well smoked tuna and marlin.



Photo: Ensenada - Mercado de Mariscos, the Fish Market. This is where you get in.



My life has always been about freedom and I shall continue to walk this path.
Safe travels ! ........... Stan


---
Check out my Photography Portfolio


Main Page ● Links

---
stan@ancientnomad.com
My Photography Page


2011
November:
October:
September:
August:
July:
June:
May:
April: 11 10-3 10-2 10-1
March:
February:
January: 15 06-11 06-10 06-9 06-8 06-7 06-6 06-5 06-4 06-3 06-2 06-1 05 03-6 03-5 03-4 03-3 03-2 03-1 02
2010
December: 29 23-28 22-2 22-1 20-2 20-1 19 18-2 18-1
November: 01-4 01-3 01-2 01-1
October: 31 23 22 20 17 11 09-2 09-1 08 02 01-6 01-5 01-4 01-3 01-2 01-1
September: 29 28 27 25-2 25-1 20-24 23 18 13 12 11-3 11-2 11-1 10-2 10-1 7 4 3-2 3-1 2
August: 31 30 29 28 27 26 25 24 21-22 20 18 17 16 15 14 13 12 10-11-1 9 6 5 3 2 1
July: 31 30 29 17 9 7 6-2 6-1 5-2 5-1 4-2 4-1 2 1
June: 30 24
May: 12 9
April: 25-26 12
March: 7 2
February: 28 26 24 22 21 16-17 15 14 13 10-12 08
May:
April: 11 10-3 10-2 10-1
March:
February:
January: 27 19 13 12 8-2 8-1 7 6 5 3 1-2

2009
December: 31 30 29 28 26-27 24 20-23 19 17-18 16-17 13-14 1-13

2010



---