PART 1: Escape from Vancouver freeze & the Mexico couch surfing experiment - Dec. 13 - Jan. 9 2010
---
San Diego, USA - January 07, 2010
---

17:23. I am at the airport waiting for boarding at 17:50. The flight leaves at 18:30. After three hours I will be in Bellingham. There are no buses to the border at night, so I will have to stay at the airport till morning. I just hope they don't close for the night - it's a small airport. Surviving outside is unlikely - it is not Mexico anymore ! Hopefully there will be no snow. I will find out soon enough.


---
San Diego, USA - January 07, 2010
---

12:13. I am sitting downtown and doing my last entry in San Diego. I will have to head back in an hour or so, pick up my stuff and go to the airport. It might take longer to pick up the ticket and go through the gates because of the stupidity of one guy. On Christmas day someone young, spoiled and obviously lost tried to blow up an airplane, so everything might take longer this time and I would like to be there a little earlier.

San Diego. What can I say... Great climate - my idea of winter. Sunny, warm, and laid back. I stayed again at Daniel's place. We are both busy but we had a few short interesting conversations. I also met a couple of his friends and his daughter, Victoria. All of them are nice and bright people and I will stay in touch.

Being in San Diego for the third time starts to feel like I know the city. Streets look familiar, I know my way around and I even recognize same faces. I don't think there is a big art scene here, but I could live here. Or at least have a second house ( if I could only afford one ! ha ha ) Also, the great thing about San Diego is the proximity to Mexico. Only an hour by bus from the border and you are in Ensenada !

Another thing that I noticed about San Diego is that the palm trees and concrete co-exist and nicely blend together here. It might be missed by someone living here, but I spotted a few places where they make almost a painting. I always liked palm trees, and I like them here - in San Diego.



Photo: San Diego - Palm trees and San Diego.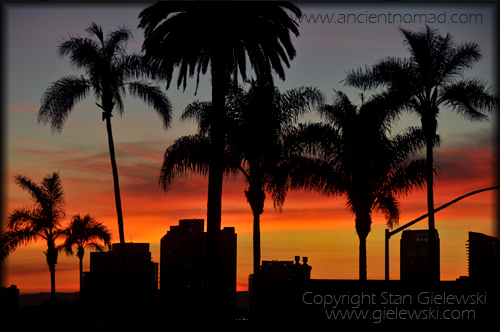 Photo: San Diego - At night, palm trees and San Diego from the 23rd.



Photo: San Diego - Broadway Street.



Photo: San Diego - Santa Fe - the San Diego train station.

Here a couple of random San Diego photos.



Photo: San Diego - View from the mall downtown. You can see people skating in the skating rink.



Photo: San Diego - One of the old ships at the Maritime Museum. ( a submarine in the background )



Photo: San Diego - A large sailboat coming to the port.



Photo: San Diego - And a couple of birds looking at it ;)

So, this chapter of the trip is coming to an end. I don't want to leave, but sometimes we have no choice. I will try to make the best out of the next part - in Canada. I will still have some time at the airport so if I have a chance I will write a bit more.

The Great White North is waiting for me... See you there !



My life has always been about freedom and I shall continue to walk this path.
Safe travels ! ........... Stan


---
Check out my Photography Portfolio


Main Page ● Links

---
stan@ancientnomad.com
My Photography Page


2011
November:
October:
September:
August:
July:
June:
May:
April: 11 10-3 10-2 10-1
March:
February:
January: 15 06-11 06-10 06-9 06-8 06-7 06-6 06-5 06-4 06-3 06-2 06-1 05 03-6 03-5 03-4 03-3 03-2 03-1 02
2010
December: 29 23-28 22-2 22-1 20-2 20-1 19 18-2 18-1
November: 01-4 01-3 01-2 01-1
October: 31 23 22 20 17 11 09-2 09-1 08 02 01-6 01-5 01-4 01-3 01-2 01-1
September: 29 28 27 25-2 25-1 20-24 23 18 13 12 11-3 11-2 11-1 10-2 10-1 7 4 3-2 3-1 2
August: 31 30 29 28 27 26 25 24 21-22 20 18 17 16 15 14 13 12 10-11-1 9 6 5 3 2 1
July: 31 30 29 17 9 7 6-2 6-1 5-2 5-1 4-2 4-1 2 1
June: 30 24
May: 12 9
April: 25-26 12
March: 7 2
February: 28 26 24 22 21 16-17 15 14 13 10-12 08
May:
April: 11 10-3 10-2 10-1
March:
February:
January: 27 19 13 12 8-2 8-1 7 6 5 3 1-2

2009
December: 31 30 29 28 26-27 24 20-23 19 17-18 16-17 13-14 1-13

2010



---