PART 3: Back on the road - South East Asia.
---
Bandar Seri Begawan, Brunei Darussalam, July 29, 2010
---

Today I arrived in Brunei. After about a week in Kota Kinabalu, the capitol of the Malaysian part of Borneo, I took a speed boat to Palau Labuan - an island between Malaysia and Brunei Darussalam. The best way to travel between these two countries is by boat. The boat to Labuan took about three hours and cost 31 Ringgit, and the one to Brunei about an hour and 35 Ringgit.

Borneo has been a bad luck for me. When I flew to Kota Kinabalu from Jakarta, my ears got plugged and I had to put my plans on hold. So, I skipped the trip to Sandakan and Semporna, where I was going to dive.

Without diving, there was not much reason for me to go there. After seeing photos from the Sepilok orangutan center I decided not to go there. I think you can get closer and more personal with orangutans at a ZOO. In the photo I saw a crowd of tourists and a few orangutans on a platform in a distance, which looked to me like a bad variation of a ZOO. I have been to many great ZOO's, so this is not for me. I would rather go on one of the river cruises which they offer and take my chance to see the real wildlife. Some people had seen wild orangutans, pygmy elephants, and a few other creatures on those trips. There is no guarantee though. So, considering the costs (45 Ringgit for the bus one way plus the hotel), the fact that I have limited time since I must be in Kuching on the 8th to fly to Kuala Lumpur, and the little I could actually do, I decided that it is not worth going there at this time. Thankfully, traveling in South East Asia is cheap, so the next time when I get there I will have it all: climbing Mt. Kinabalu, taking the river cruises and diving in Sipadan.

All these activities in Borneo are pretty expensive (as for a backpackers budget) add up. They also have to be booked in advance. Climbing Mt. Kinabalu was book for the next three weeks ahead. While making it in one day is possible without prior booking (so I heard), it is too much for one day and the best views are to see when staying overnight in a camp on the mountain. The guide and the whole tour is not that expensive - I think about 180 Ringgit, but having the monopoly they charge a whooping about 100 dollars for dorm space for that one night! The river cruises in Sandakan are about 150. And diving - while packages are costly, if you show up there (after arranging in advance the park dive permit) one dive is 100 Ringgit (about $30).

Below, in retrospective, a few photos from Kota Kinabalu - the capitol of Malaysian Borneo.



Photo: Flying over the shore leaving Jakarta.



Photo: One of the oldest streets in Kota Kinabalu is Gaya Street. I stayed there at the Stay-in Lodge. The dorm bed was 10 Ringgit and the place was clean and all right. The whole street is not very attractive, but there are many small places and shops on both sides. The whole Kota Kinabalu is not big and very easy to explore. The streets are like a grid with two or three main streets parallel to the shore, and many smaller ones connecting them.



Photo: Kota Kinabalu.



Photo: Street in Kota Kinabalu.



Photo: Kota Kinabalu.



Photo: Kota Kinabalu's famous landmark. It is in the center and right by the ocean.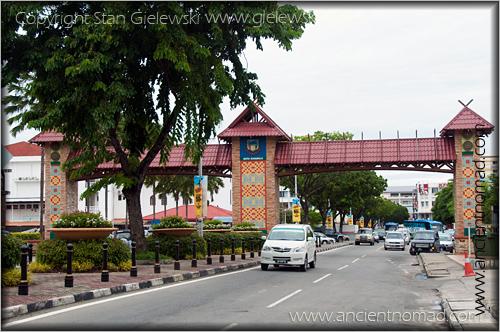 Photo: A gate welcoming people to Kota Kinabalu.



Photo: Another Kota Kinabalu street.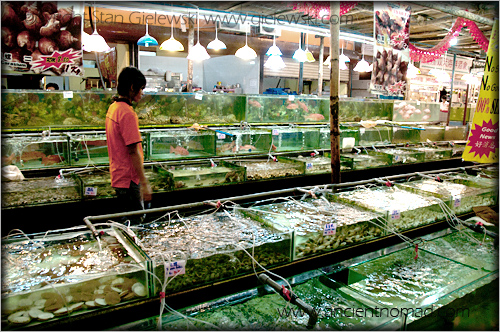 Photo: Kota Kinabalu is famous for fresh seafood. Some restaurants have aquariums with fish, crabs, lobsters etc. for the customer to pick up whatever they want and have it prepared on the spot.



Photo: I had some clams for dinner. Actually, these look better than taste.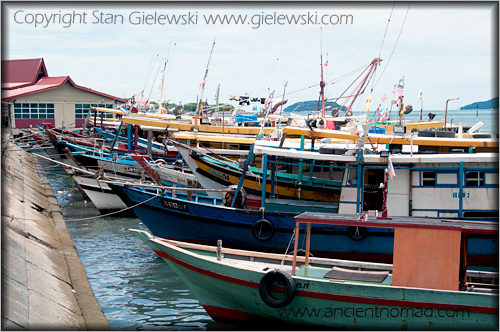 Photo: Kota Kinabalu is a port not just for larger ships, but also a base for fishing boats. That's where from the daily catch comes from.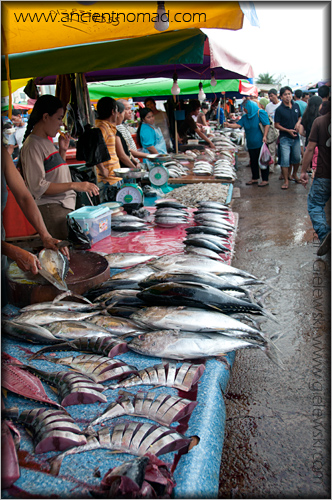 Photo: The fish ends up on the centrally located market.



Photo: Kota Kinabalu - the fish market.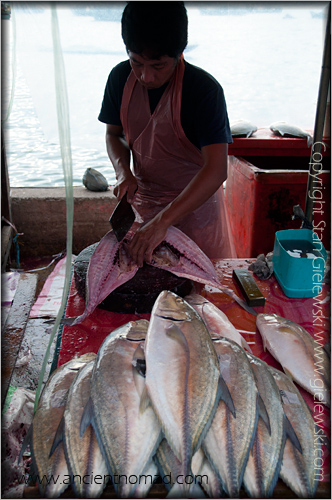 Photo: Taking care of business.



Photo: And this is where it ends up - on a grill next door. It's an outdoor space where you can sit, relax, and eat. It opens around 6 PM.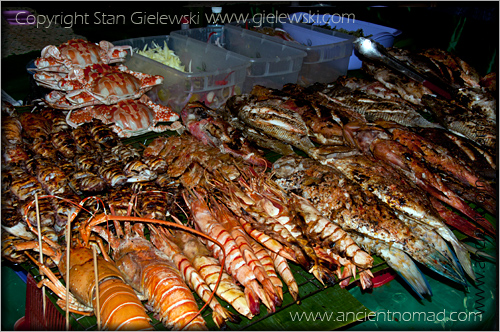 Photo: More seafood. They grill it first, and when you order it goes back on the grill to make it warm. I'd prefer to have it fresh right from the grill, but still, it is not bad. I had bad luck one day though, when I asked the guy to throw the sting ray back on the grill because it was undercooked. I ended up leaving it on the plate, half finished, because he didn't do a good job. Good thing it's not expensive here. For something more elaborate, and a little pricer, it is better to go to one of those restaurants with fish tanks. They are located right in the middle of Kota Kinabalu, and very close to this open market.



Photo: As a durian aficionado, I had to try this type of durian which is available only in Borneo. It looks different from the regular durian found in other parts of South East Asia. The spikes are longer and it is round in shape. It also had this unusual orange or red color. This was the creamier durian I have ever had, although not the tastiest. Still pretty good, and the red one has a stronger taste. But the best durian so far, with a great aroma, texture and taste, was one which I had in Melaka, Malaysia.



Photo: The true colors of the Borneo durian.

Palau Labuan is a small island. There is not that much here, but again, if only my ears were in order, there are a few pretty cool wrecks to dive. Bummer. I was going to stay in Labuan two days, and take photos, but the next day was raining and I just left for Brunei. Still, I managed to take a couple of shots, and there is not that much to miss. Just a regular small town which seems calm and just as safe as Kota Kinabalu. Not much of anything exotic.



Photo: Labuan, Malaysia. This is the ferry which goes from Kota Kinabalu to Palau Labuan. 31 Ringgit and about 3 hours. You can go on the open deck and enjoy the trip from there, or stay inside in air conditioned space. Here, still in Kota Kinabalu, just before boarding.



Photo: Labuan, Malaysia. Hungry after the trip, I went for a piece of curry stingray and roti. Simple yet good.



Photo: Labuan is a duty free zone, and there are many duty free shops everywhere.



Photo: Labuan - the cigarettes come with a full warning. Traveling, I am actually surprised to see how many Westerners smoke! Virtually, 80% of old and young Europeans smoke. Same North Americans. And probably 99% of all 20 something white kids smoke. I can't stand it.



Photo: Labuan. This is the only picture I have of the city - the financial district. It's pretty small, and the rest of the streets are small with small shops. It is really a small town.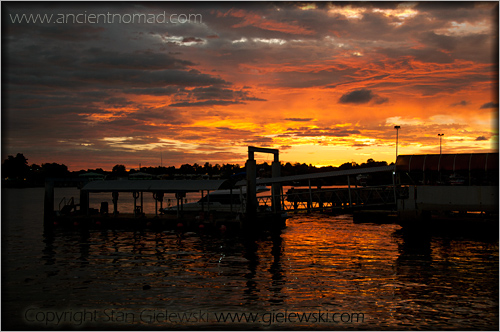 Photo: Sunset in Labuan.



Photo: Labuan. The boat terminal - here you arrive from Kota Kinabalu and here you go to Brunei.



My life has always been about freedom and I shall continue to walk this path.
Safe travels ! ........... Stan


---
Check out my Photography Portfolio


Main Page ● Links

---
stan@ancientnomad.com
My Photography Page


2011
November:
October:
September:
August:
July:
June:
May:
April: 11 10-3 10-2 10-1
March:
February:
January: 15 06-11 06-10 06-9 06-8 06-7 06-6 06-5 06-4 06-3 06-2 06-1 05 03-6 03-5 03-4 03-3 03-2 03-1 02
2010
December: 29 23-28 22-2 22-1 20-2 20-1 19 18-2 18-1
November: 01-4 01-3 01-2 01-1
October: 31 23 22 20 17 11 09-2 09-1 08 02 01-6 01-5 01-4 01-3 01-2 01-1
September: 29 28 27 25-2 25-1 20-24 23 18 13 12 11-3 11-2 11-1 10-2 10-1 7 4 3-2 3-1 2
August: 31 30 29 28 27 26 25 24 21-22 20 18 17 16 15 14 13 12 10-11-1 9 6 5 3 2 1
July: 31 30 29 17 9 7 6-2 6-1 5-2 5-1 4-2 4-1 2 1
June: 30 24
May: 12 9
April: 25-26 12
March: 7 2
February: 28 26 24 22 21 16-17 15 14 13 10-12 08
May:
April: 11 10-3 10-2 10-1
March:
February:
January: 27 19 13 12 8-2 8-1 7 6 5 3 1-2

2009
December: 31 30 29 28 26-27 24 20-23 19 17-18 16-17 13-14 1-13

2010



---