PART 3: Back on the road - South East Asia.
---
Jakarta, Indonesia, July 04, 2010
---

22:06. I am on the train heading to Yogyakarta. Laptop fully charged so I am catching up with blog writing.

There is another train going to Yogyakarta from Gambir Station. It is air conditioned and I think they serve a meal. It cost 300,000 Rupiah, so I opted for a cheaper one from Pasar Senen, which cost only 150,000. It has fans only, but it gets cool at night and this is a night train. I don't really like air conditioning anyway. It made me sick a couple times already. There is also another train - at 35,000 Rupiah a real bargain. But it runs a few hours longer, crowded with no seats guaranteed, so I chose to compromise. It wasn't actually a good thing, at least in part. I met a friendly girl waiting for the train and she was taking the cheap one. She spoke some English so if I was taking the cheap train I would have had a companion to chat. Funny how it always works this way. Compromising has somehow never worked well for me.

The train was supposed to leave Jakarta at 19:30, but it did 15 minutes earlier. Very similar story to buses in Peru. It's a good thing to remember for anyone planning to travel in those countries. I made it on time though and another 8 hours later I will be in Yogyakarta. One of the most interesting places I have been to in Jakarta was Sunda Kelapa. It's a port for Indonesian traditional wooden boats, which they still make. I am not sure where they go to, but just looking at them and taking photos was super fun. I love those shapes, the atmosphere.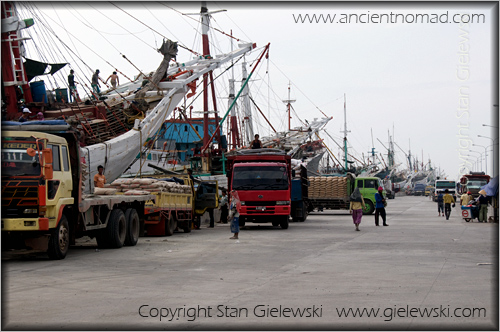 Photo: Jakarta, Sunda Kelapa - port of traditional Indonesian wooden boats.



Photo: Jakarta, Sunda Kelapa - more boats.



Photo: Jakarta, Sunda Kelapa - more boats. I love their shapes, they are so photogenic.



Photo: Some work hard...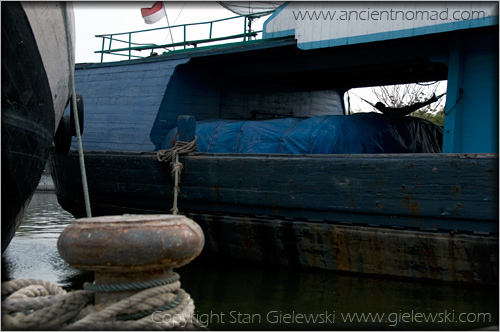 Photo: ...while others have a siesta.



Photo: But no matter what, at the end it's all for the ships - they own this place.



My life has always been about freedom and I shall continue to walk this path.
Safe travels ! ........... Stan


---
Check out my Photography Portfolio


Main Page ● Links

---
stan@ancientnomad.com
My Photography Page


2011
November:
October:
September:
August:
July:
June:
May:
April: 11 10-3 10-2 10-1
March:
February:
January: 15 06-11 06-10 06-9 06-8 06-7 06-6 06-5 06-4 06-3 06-2 06-1 05 03-6 03-5 03-4 03-3 03-2 03-1 02
2010
December: 29 23-28 22-2 22-1 20-2 20-1 19 18-2 18-1
November: 01-4 01-3 01-2 01-1
October: 31 23 22 20 17 11 09-2 09-1 08 02 01-6 01-5 01-4 01-3 01-2 01-1
September: 29 28 27 25-2 25-1 20-24 23 18 13 12 11-3 11-2 11-1 10-2 10-1 7 4 3-2 3-1 2
August: 31 30 29 28 27 26 25 24 21-22 20 18 17 16 15 14 13 12 10-11-1 9 6 5 3 2 1
July: 31 30 29 17 9 7 6-2 6-1 5-2 5-1 4-2 4-1 2 1
June: 30 24
May: 12 9
April: 25-26 12
March: 7 2
February: 28 26 24 22 21 16-17 15 14 13 10-12 08
May:
April: 11 10-3 10-2 10-1
March:
February:
January: 27 19 13 12 8-2 8-1 7 6 5 3 1-2

2009
December: 31 30 29 28 26-27 24 20-23 19 17-18 16-17 13-14 1-13

2010



---