PART 3: Back on the road - South East Asia.
---
Cemero Lewang, Indonesia - a trip to Gunung Bromo, July 07, 2010
---

Another day of long hours on a bus and another place. I bought a ticket to Denpasar, Bali, and it included a visit to Gunung Bromo - an active volcano. The cost is basically the same as if you would do it by yourself. It includes the hotel and much less hassle. It was 320,000 Rupiah, plus 90,000 for a jeep and 25,000 park entrance fee.

We left Yogyakarta in the morning and arrived at a small town called Probolingo. Then, changed the van to another one, and taken to a smaller place called Cemoro Lewang to a hotel. The next day, we left in a jeep to a lookout (about 12 kilometers away) at about 4 AM. It took about an hour to get there, to be on time to see the sunrise.

At the top, where the temperature was just a few degrees above zero (due to the higher altitude - about 2700 meters), we waited for te promised great view of the sunrise over the volcanoes. Well, 5:15 passed, then 6:00, and all we could see was a fog. The whole area was covered by clouds. Very disappointed, we stared to climb down back to the jeep.

At around 6:30, just a very short ride from the top, things started looking good. We stopped the jeep and spent some time until almost all fog was gone. What an awesome sight!




Photo: Gunung Bromo - people waiting for the sunrise..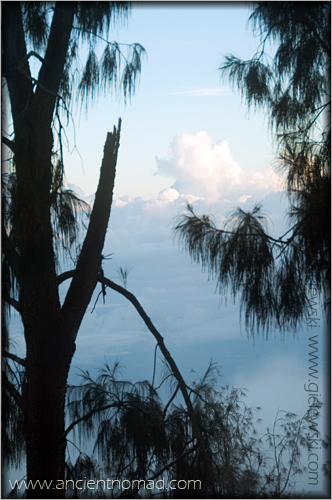 Photo: Gunung Bromo - foggy but getting brighter..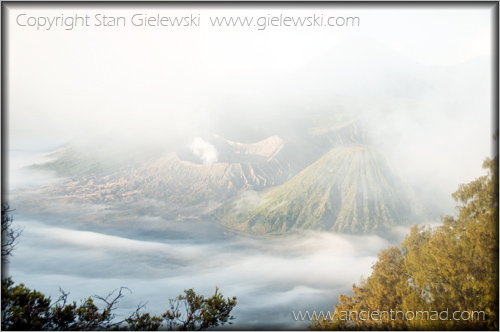 Photo: Gunung Bromo. Finally something shows up.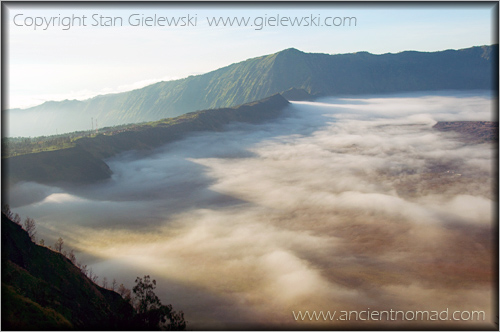 Photo: Gunung Bromo. This is the view to the left...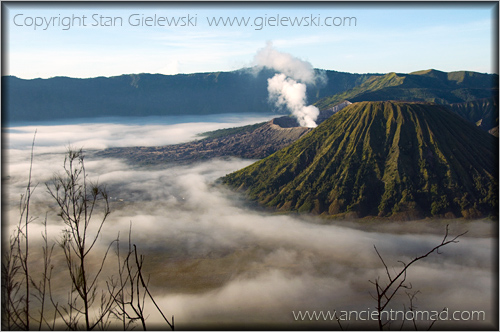 Photo: Gunung Bromo. ...and the view to the right. The 'steaming' volcanoes is Gunung Bromo, to which we will go later and climb.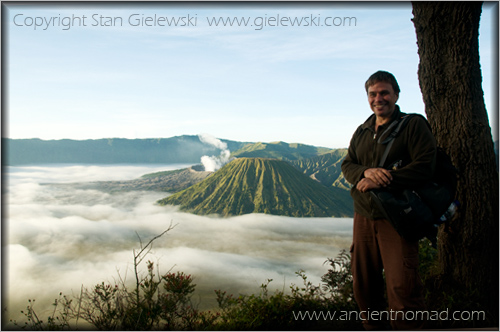 Photo: And here the traveler :)



Photo: There is a temple at the foot of Gunung Bromo.



Photo: Same temple closer as we approach. Lot's of people.



Photo: A short and easy climb to the edge.



Photo: Gunung Bromo - looking down.



Photo: I went for a walk around the crater. This is how the people look from the other side (well.. almost, since I didn't go all around - we had no time for it)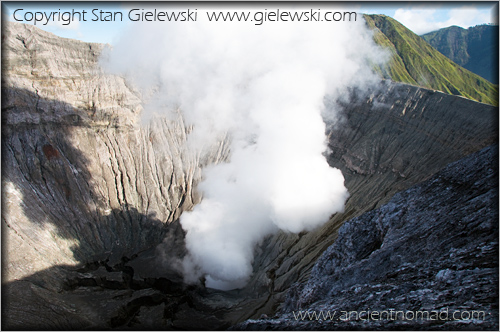 Photo: Gunung Bromo, a look inside the crater.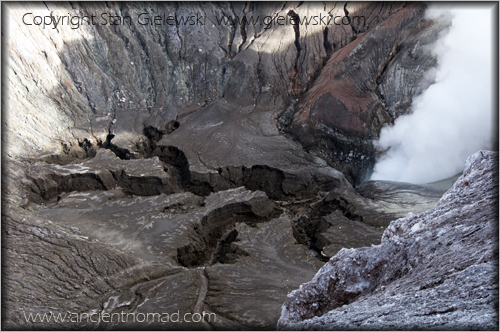 Photo: And the crater's bottom.



Photo: I walked the edge...



Photo: Here I am.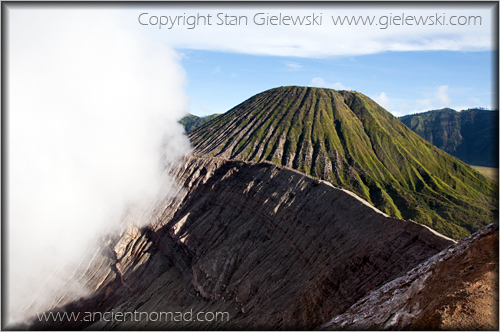 Photo: Gunung Bromo and another volcano in the back.



Photo: A view from the top in another direction.



My life has always been about freedom and I shall continue to walk this path.
Safe travels ! ........... Stan


---
Check out my Photography Portfolio


Main Page ● Links

---
stan@ancientnomad.com
My Photography Page


2011
November:
October:
September:
August:
July:
June:
May:
April: 11 10-3 10-2 10-1
March:
February:
January: 15 06-11 06-10 06-9 06-8 06-7 06-6 06-5 06-4 06-3 06-2 06-1 05 03-6 03-5 03-4 03-3 03-2 03-1 02
2010
December: 29 23-28 22-2 22-1 20-2 20-1 19 18-2 18-1
November: 01-4 01-3 01-2 01-1
October: 31 23 22 20 17 11 09-2 09-1 08 02 01-6 01-5 01-4 01-3 01-2 01-1
September: 29 28 27 25-2 25-1 20-24 23 18 13 12 11-3 11-2 11-1 10-2 10-1 7 4 3-2 3-1 2
August: 31 30 29 28 27 26 25 24 21-22 20 18 17 16 15 14 13 12 10-11-1 9 6 5 3 2 1
July: 31 30 29 17 9 7 6-2 6-1 5-2 5-1 4-2 4-1 2 1
June: 30 24
May: 12 9
April: 25-26 12
March: 7 2
February: 28 26 24 22 21 16-17 15 14 13 10-12 08
May:
April: 11 10-3 10-2 10-1
March:
February:
January: 27 19 13 12 8-2 8-1 7 6 5 3 1-2

2009
December: 31 30 29 28 26-27 24 20-23 19 17-18 16-17 13-14 1-13

2010



---