PART 3: Back on the road - South East Asia.
---

Route Map
Koh Tao, Thailand » October 11, 2010
---

I was really lucky to choose the 8 th of October to go snorkeling. The next day the weather became bad. It started to rain and it was cloudy for the next two days. Today mixed, but still cloudy and not veyr bright. I just stayed at the restaurant, drank coffee and spend hours on the internet. There is really not much else to do on the island in bad weather, except for drinking beer or coffee and spending hours on the internet. When the weather is nice, you can also dive.

In the late afternoon I went to sit on the pier where boats leave for Chumphon. I watched the fish and people fishing for squid, took photos of the surroundings. Basically, just playing with the camera. Kind of out of boredom and nothing to do. At the same time I really enjoyed being away from the people and all by myself. I need it.

So I played with the camera, shooting whatever I saw and trying to see how far can I go with the slow shutter speed and still having the photos sharp. Some of the results are below - a bunch of random photos from a man sitting on a pier. (that's me :))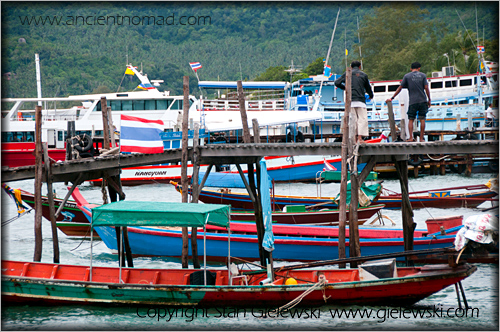 Photo: Koh Tao, Thailand.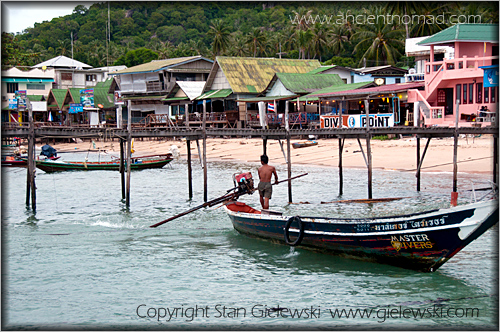 Photo: Koh Tao, Thailand.



Photo: Koh Tao, Thailand.



Photo: Koh Tao, Thailand.



Photo: Koh Tao, Thailand.

It's not very late but it's getting really dark. Time to go back.



My life has always been about freedom and I shall continue to walk this path.
Safe travels ! ........... Stan


---
Check out my Photography Portfolio


Main Page ● Links

---
stan@ancientnomad.com
My Photography Page


2011
November:
October:
September:
August:
July:
June:
May:
April: 11 10-3 10-2 10-1
March:
February:
January: 15 06-11 06-10 06-9 06-8 06-7 06-6 06-5 06-4 06-3 06-2 06-1 05 03-6 03-5 03-4 03-3 03-2 03-1 02
2010
December: 29 23-28 22-2 22-1 20-2 20-1 19 18-2 18-1
November: 01-4 01-3 01-2 01-1
October: 31 23 22 20 17 11 09-2 09-1 08 02 01-6 01-5 01-4 01-3 01-2 01-1
September: 29 28 27 25-2 25-1 20-24 23 18 13 12 11-3 11-2 11-1 10-2 10-1 7 4 3-2 3-1 2
August: 31 30 29 28 27 26 25 24 21-22 20 18 17 16 15 14 13 12 10-11-1 9 6 5 3 2 1
July: 31 30 29 17 9 7 6-2 6-1 5-2 5-1 4-2 4-1 2 1
June: 30 24
May: 12 9
April: 25-26 12
March: 7 2
February: 28 26 24 22 21 16-17 15 14 13 10-12 08
May:
April: 11 10-3 10-2 10-1
March:
February:
January: 27 19 13 12 8-2 8-1 7 6 5 3 1-2

2009
December: 31 30 29 28 26-27 24 20-23 19 17-18 16-17 13-14 1-13

2010



---