PART 3: Back on the road - South East Asia.
---

Route Map
Koh Tao, Thailand » October 11, 2010
---
I know it will sound weird, but I really do not have many more photos from Koh Tao. I haven't done much of the great exciting things like diving and trekking through the jungle on the island, but being here had a different meaning for me. I felt like I am in a way unwinding everything I have known and starting all over. In a way it was true, and in a way it was just like a mental exercise I had to do. I don't know which was, or is more real. All I know is that, again, how letting all go feels, and take it one day at a time. Something I had to remind myself a about. I have always walked my own way, but at the same time I paid too much attencion to what others think of me, what's proper, what is a good thing to do. I feel I don't have to worry about this too much now. Doing what I was meant meant to do, without causing any harm, will create ymy place in society, naturally and spontaniously. There is no reason in trying to fit, to please, or prove yourself. Just being yourself, those who appreciate it will find me. I am really happy with who I am and the kind of person I am. And there is always a room for improvement, so it will never get boring.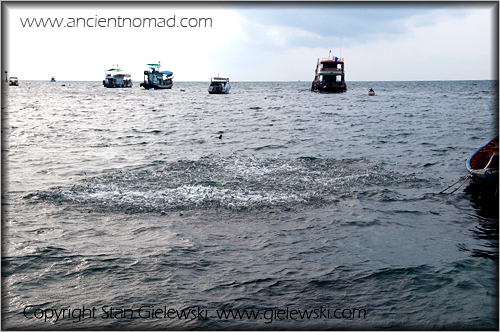 My life has always been about freedom and I shall continue to walk this path.
Safe travels ! ........... Stan


---
Check out my Photography Portfolio


Main Page ● Links

---
stan@ancientnomad.com
My Photography Page


2011
November:
October:
September:
August:
July:
June:
May:
April: 11 10-3 10-2 10-1
March:
February:
January: 15 06-11 06-10 06-9 06-8 06-7 06-6 06-5 06-4 06-3 06-2 06-1 05 03-6 03-5 03-4 03-3 03-2 03-1 02
2010
December: 29 23-28 22-2 22-1 20-2 20-1 19 18-2 18-1
November: 01-4 01-3 01-2 01-1
October: 31 23 22 20 17 11 09-2 09-1 08 02 01-6 01-5 01-4 01-3 01-2 01-1
September: 29 28 27 25-2 25-1 20-24 23 18 13 12 11-3 11-2 11-1 10-2 10-1 7 4 3-2 3-1 2
August: 31 30 29 28 27 26 25 24 21-22 20 18 17 16 15 14 13 12 10-11-1 9 6 5 3 2 1
July: 31 30 29 17 9 7 6-2 6-1 5-2 5-1 4-2 4-1 2 1
June: 30 24
May: 12 9
April: 25-26 12
March: 7 2
February: 28 26 24 22 21 16-17 15 14 13 10-12 08
May:
April: 11 10-3 10-2 10-1
March:
February:
January: 27 19 13 12 8-2 8-1 7 6 5 3 1-2

2009
December: 31 30 29 28 26-27 24 20-23 19 17-18 16-17 13-14 1-13

2010



---