PART 3: Back on the road - South East Asia.
---

Kota Bahru, Malaysia » August 28, 2010
---

I went for a walk around the city. First the morning market, then the main mosque here. It's quite big, and a huge number of people turned out there for the mid-day prayers. Kota Bahru is so far the most Muslim city I have been to. Women in sarong everywhere. There are loudspeakers in the middle of the city and they blast the 'holy words'. I was told that on Fridays, like today, they do it longer than usually. And they did - till almost noon. I could not live here, but it's a country with Muslim law and that's the way it works. Take it or leave it.

I am not ready yet with the new photos, but today's photo diary will come here very soon.

Tomorrow, 9 am, bus to Goa Musang. 3.5 hours and 16.10 Ringgit. It's the gateway to Cameron Highlands, a place in the mountains where you can escape the heat. And it's quite hot here with the sun being almost vertical.

.
.
.

19:30. Just finished eating. I didn't take a photo, but I had some blue colored rice, some beef flakes, bean sprouts and green leaves (don't know what's that), 6 quail eggs, one crab claw, one small squid, one piece of chilli chicken, spicy clams, beef tripe - all 8 Ringgit. That's about USD 2.50. Not bad.

I brought the food to the hostel and had it at the table. People eat here with their hands. Actually the right hand - the left hand is 'dirty'. I ate it with a spoon, in my right hand, and held the chicken by the bone in my left. The white guy sitting at the table grimaced, made a weird noise and said 'no, no, not the left hand' with disgust. I said - well, I am not local eating with locals. More grimace followed. He said - 'Why you shake your right hand?', the teacher gave me a riddle. I said - 'because most people are right handed'. Grimace. 'And anyway', I said, 'when you eat a crab, you do it with both hands'. I guess he was itching to share his wisdom and show off the extend to which he assimilated with the local culture, so he went on explaining that people do it because the left is 'dirty'. Meaning you wipe your bum with the left one. I guessed he asked for it, so I told him that I actually don't - I am right handed and I do it with my right hand. That didn't convince him, but visibly he got confused. Seriously, I don't understand those white tourists who are so full of the new found wisdom when spending a couple months in some 'exotic' country. They don't know the difference between being polite and following local customs when the situation calls for it. They become a turds, so easily. A pretty narrow minded for what I see, but what can you expect when atheir glass fills with just a few spoon fulls.

I will not reveal which hand I actually use for the deed, but for the sake of argument the right one served me well. These people are pathetic, just like the 'new age' people who go around suggesting 'good books to read' and preach about life and universe after a week of some meditation retreat. What a bunch of self absorbed narcissistic loosers. Oh, so many white soft spoken Buddhists out there, bottling up that anger, haha. They always have the right answer when they finally blow up at you - and it's your fault of course. Finally karma caught up with you! ha hahaha

What's even funnier is that three hours earlier this guy went out and bought food for the 'fasting faithful' locals he sits with, helping them break the Ramadan law. They stuffed themselves with it like if this was the last meal of their lives.

After finishing eating I pulled out my notebook and started writing this story. This guy kept looking at me once in a while, even after 10 minutes. I guess I made him think. I bet he thinks I am a pig. Good for me - he will leave me alone.


Now back to what I saw today. A few more photos from Kota Bahru.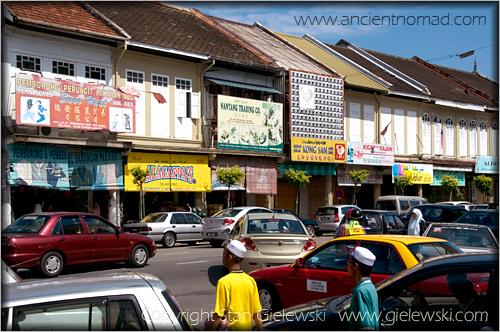 Photo: Kota Bahru, Malaysia. The older part of town has such narrow smaller raws of houses.



Photo: Kota Bahru, Malaysia. Women at the market.



Photo: Kota Bahru, Malaysia. And this is what they want.



Photo: Kota Bahru, Malaysia. And this is what the guys want.



Photo: Kota Bahru, Malaysia. And all of them want these.



Photo: Kota Bahru, Malaysia. From the market I went around in circles, exploring the streets, and I found this Mosque. It's not tall and impressive, but it's quite broad and has a big capacity. Also, there is a bunch of large building around it - I am not sure what they are but they must be connected to the Mosque and the government.



Photo: Kota Bahru, Malaysia. Besides filling the streets with cars and motorcycles, they also park in the area behind and in front of these gates. There are not many people here yet, but soon there will be plenty.



Photo: Kota Bahru, Malaysia. Thosa open books that's Quaran, and these guys seem to notice them.



Photo: Kota Bahru, Malaysia.



Photo: Kota Bahru, Malaysia. People entering the Mosque. I stayed outside.



Photo: Kota Bahru, Malaysia. Shoes also stay outside.



Photo: Kota Bahru, Malaysia.



Photo: Kota Bahru, Malaysia. The service has begun.



Photo: Kota Bahru, Malaysia.



Photo: Kota Bahru, Malaysia.



Photo: Kota Bahru, Malaysia.



Photo: Kota Bahru, Malaysia.



Photo: Kota Bahru, Malaysia.

There are also those less fortunate, who end up in a place between a wall and a pillar. When editing this photo I tried keeping away my watermark from the sleeping guy, as if I was afraid to make it look like there is an association. Weird, this time when I am not that far from where he is. Is this the conscience? Maybe it's the thought? Or a feeling that comes from it or proceeds? If he doesn't have this dilemma, then who is happier? Was he like the boy above at one time? Will the boy become him? We can plan in life whatever we want, but the future is in the hands of a mystery. Some people like giving it name. It's easier, and I agree. I hope these people will find their answers. Or at least a peace for a while. All of them, in mosques, temples or churches. And people like me, who just travel. Like a passenger on a crazy train of life. If you read this, it means that the wheels are turning. Your wheels. Sit back and enjoy what's yours. I will what's mine.



Photo: Kota Bahru, Malaysia.



My life has always been about freedom and I shall continue to walk this path.
Safe travels ! ........... Stan


---
Check out my Photography Portfolio


Main Page ● Links

---
stan@ancientnomad.com
My Photography Page


2011
November:
October:
September:
August:
July:
June:
May:
April: 11 10-3 10-2 10-1
March:
February:
January: 15 06-11 06-10 06-9 06-8 06-7 06-6 06-5 06-4 06-3 06-2 06-1 05 03-6 03-5 03-4 03-3 03-2 03-1 02
2010
December: 29 23-28 22-2 22-1 20-2 20-1 19 18-2 18-1
November: 01-4 01-3 01-2 01-1
October: 31 23 22 20 17 11 09-2 09-1 08 02 01-6 01-5 01-4 01-3 01-2 01-1
September: 29 28 27 25-2 25-1 20-24 23 18 13 12 11-3 11-2 11-1 10-2 10-1 7 4 3-2 3-1 2
August: 31 30 29 28 27 26 25 24 21-22 20 18 17 16 15 14 13 12 10-11-1 9 6 5 3 2 1
July: 31 30 29 17 9 7 6-2 6-1 5-2 5-1 4-2 4-1 2 1
June: 30 24
May: 12 9
April: 25-26 12
March: 7 2
February: 28 26 24 22 21 16-17 15 14 13 10-12 08
May:
April: 11 10-3 10-2 10-1
March:
February:
January: 27 19 13 12 8-2 8-1 7 6 5 3 1-2

2009
December: 31 30 29 28 26-27 24 20-23 19 17-18 16-17 13-14 1-13

2010



---