PART 3: Back on the road - South East Asia.
---

Route Map
Phnom Penh, Cambodia » December 19, 2010
---
Today a visit to one of the most important places in the modern history of Cambodia - the Tuol Sleng Genocide Museum, or prison S-21 as it has been known for. In 1976, this former highschool became a torture, interrogation and execution center for the Khmer Rouge. 14,000 people entered it, only 7 survived.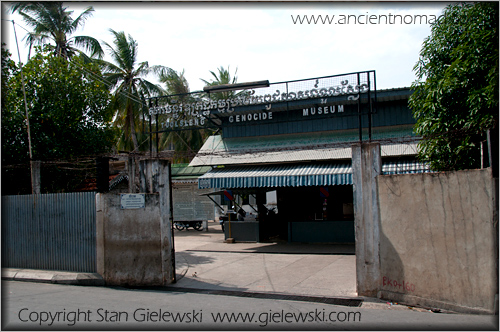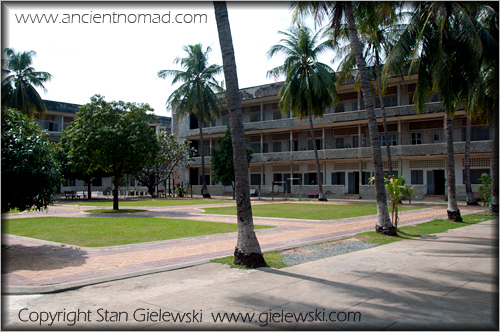 The Khmer Rouge was trying to start everything from the ground, announcing the new beginning as Year Zero. Believing that the true people for their socialist ideas are only the uneducated peasants, they started with getting rid of culture, arts, schools, and intelectual's. Which again, has a sad twist. Most of the leaders of Khmer Rouge were educated, some in far away places like France. The head of the S-21, Duch, took second place in nationals in mathematics and used to be a teacher. This is yet another example of why there is so much wrong in the world now. The current societies, of almost any country, are IQ oriented. It almost seems like there is a cult of sharp brains, degrees, problem solving with logics, intellectually calculated success. You can be smart, but if you are not 'successful', you are bad and lazy. You just don't try hard enough. Education and being smart is not a bad thing, but even just this one example of what happened in Cambodia with the Khmer Rouge, shows that it's just not enough. This picture is missing something very important - the emotional IQ, the spiritual side of who we are and what makes us human. Most of the suffering in this world is a result of the logical people forgetting about feelings of others. It's easy to do, because you can't really see the emotions. Once in awhile a person is pushed to extremes, cries, laughs. People die a tragic death, and then other are moved. It's sad that only then many 'others' 'get it'. Even more sad that many still don't. It's a sad world, of money, design, investment, resumes, calculated loss and gain. There is no glory in prosperity. It's nice to have the means to do things, to live comfortability and spoil ourselves once in awhile. We all need money, and people who ignore it are cheating themselves. This is the system we live in. But the good the money can bring, comes a lot of bad. Greed, calculation, insensitivity, and sometimes in the name of it death. Just like with the Khmer Rouge. Their elite members, the 'Brothers', ate good food while starving others. They chose genocide to make their ideas work, to have total control. It's shocking and by that addressees extreme emotions. Therefore people stop, and think. Just like with an artist, a poet, a philosopher or a visionary who gets recognized only after his death and a lifetime of suffering. People say 'what happened?'. They feel loss, an empty space, and it scares them by relating to their own mortality. They nod their heads, feel compassion and this fills the whole. The balance is restored, the comfortable numbness return. With the Khmer Rouge you see skulls, blood, desperate eyes of the prisoners. But what about all the people who live now, who do all they can in a modern society to be happy, especially 'democratic' one, but are ignored, or judged, and left to suffer in silence? A slow death. A life long torture. Money, prosperity, can be good. But it also can kill the human spirit. It kills humanity in many, who just thik they are good because they have a house and a car. They are good members of the society. It's often the case when people who sit on money tell others that money can't buy them happiness. Why not to give it away then, walk away, and prove it?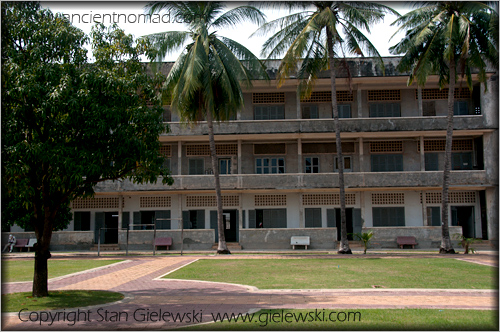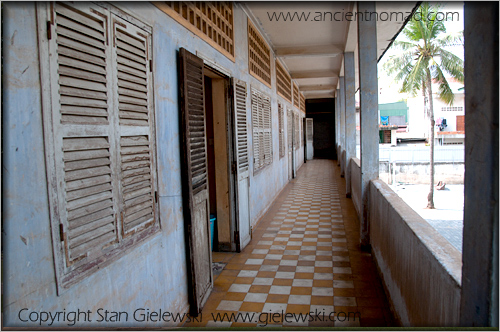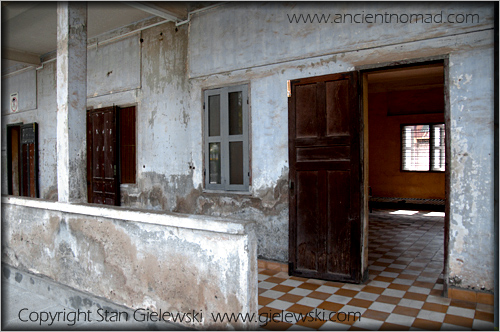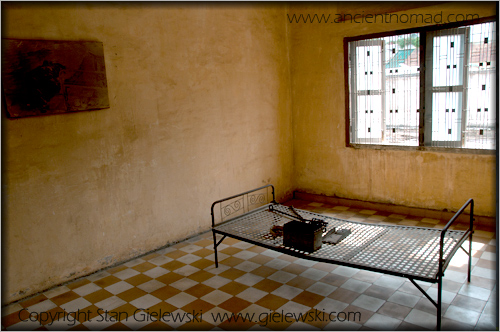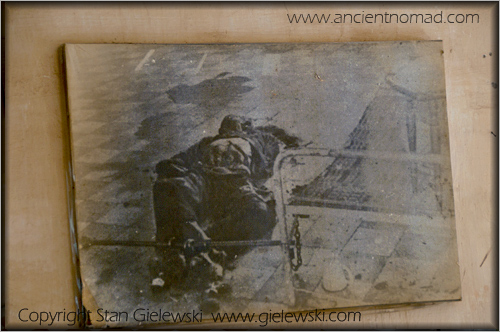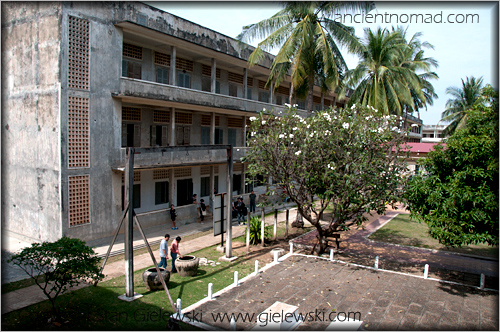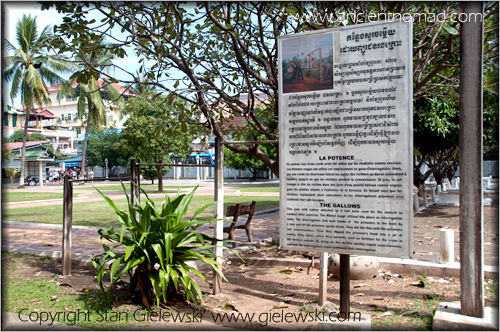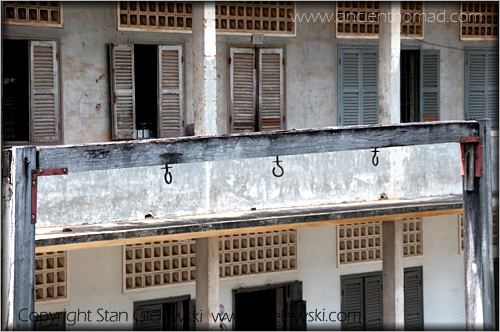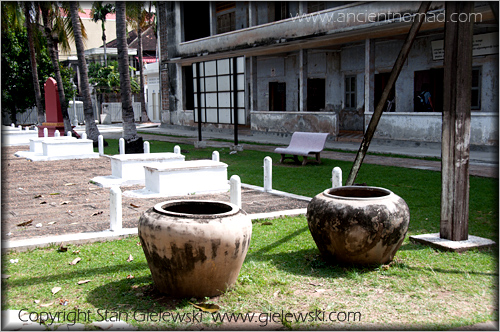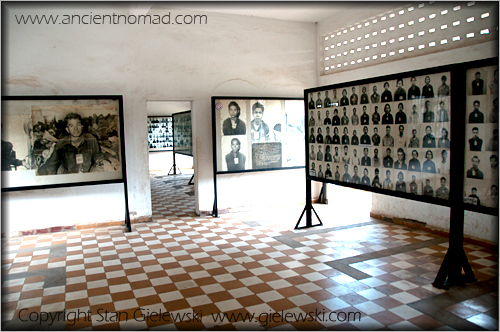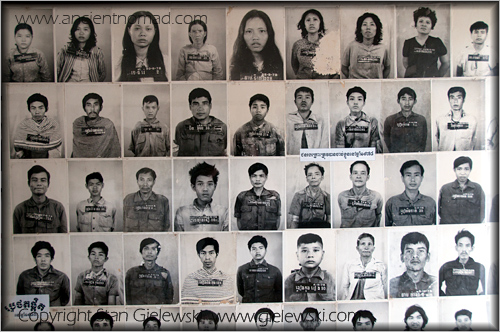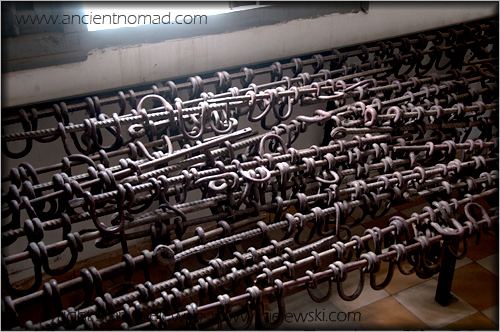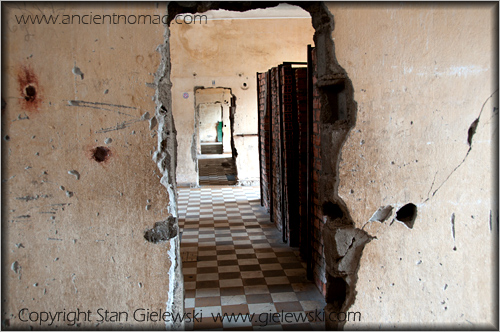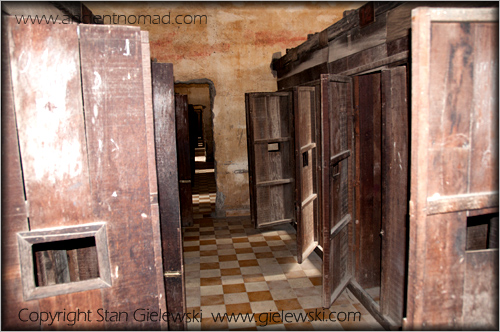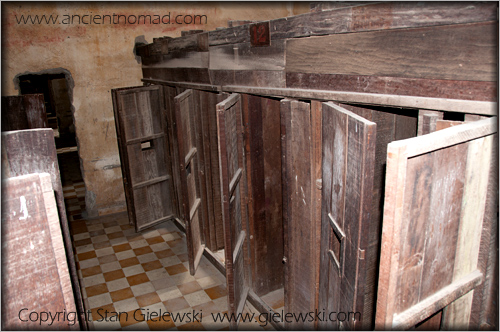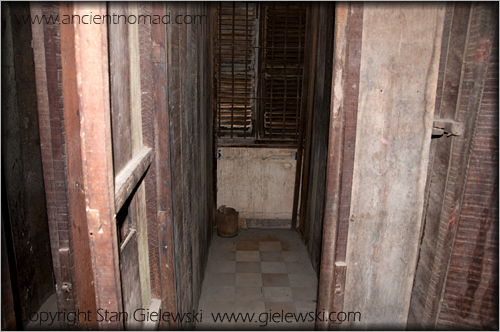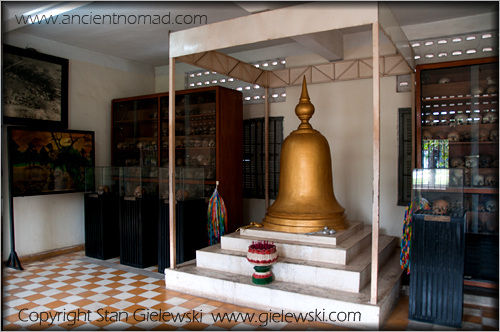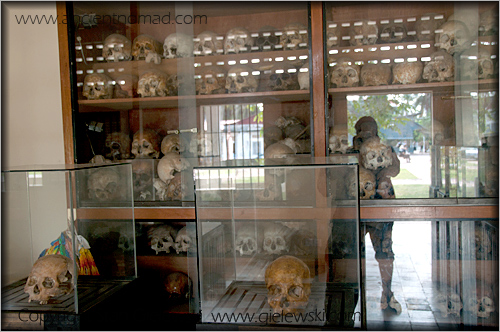 The museum has been in a way a trip into the past of Poland, and the Nazi's concentration camps. I wished that here, at the former S-21, there would have been some realistic displays of how it really was in the prison and what was happening. A lot of people can't imagine the realities those people faced and had to go through. Or perhaps it would be inappropriate. It still plays on the imagination. That is if you have one and use it. I would say that most people shed a tear here, then they leave the gates and soon go back to their indulgences and pseudo intellectualism. They go back to their cool stuff. Which in a way I don't blame them - humans are designed to spoil themselves, amass material goods and multiply. Of course, love should win. Yet it seems like we are the only species on this planed designed to exterminate members of our own kind, for nothing else than greed.
The prisoners from S-21 were killed right there, or taken to the Choeung Ek Killing Fields, in the suburbs of Phnom Penh. This will be a story continued the next day.

There is a very good movie to see about the S-21 Prison. It's called S-21: The Khmer Rouge Killing Machine. There are former guards of the S-21 intervied, and they do dramatizations of what they were doing. They are confronted by one of the former prisoners there. In my opinion, just going to see the Tuol Sleng Genocide Museum is simply not enough. To understand what was going on there, you must see the movie. In case you didn't know, there was amnesty for the formert Khmer Rouge members, and many of those who were torturing and killing, including those who worked at the S-21, are now free and live in the Cambodian society right now. If you come to visit Phnom Penh, or any other place here, you will never know who your moto or tuk tuk driver is.

The Khmer Rouge philosophy talked about eliminating the enemy. They forbid, amongst other things, love. One of the guards said there was one very beautiful young woman brought in. He felt very attracted to her. He said he wanted to touch her, he had feelings for her. But then he felt guilty, because that was against the philosophy of the Khmer Rouge. So, in is own words, he 'killed the enemy'.

Another good movie to see is The Killing Fields. It covers the whole period of time, and what was happenig. It's a great movie, and it's almost like a documentary. Don't expect anything Rumbo style, or anything similar Hollywood style. Those are bullshit, and this is the real shit.





My life has always been about freedom and I shall continue to walk this path.
Safe travels ! ........... Stan


---
Check out my Photography Portfolio


Main Page ● Links

---
stan@ancientnomad.com
My Photography Page


2011
November:
October:
September:
August:
July:
June:
May:
April: 11 10-3 10-2 10-1
March:
February:
January: 15 06-11 06-10 06-9 06-8 06-7 06-6 06-5 06-4 06-3 06-2 06-1 05 03-6 03-5 03-4 03-3 03-2 03-1 02
2010
December: 29 23-28 22-2 22-1 20-2 20-1 19 18-2 18-1
November: 01-4 01-3 01-2 01-1
October: 31 23 22 20 17 11 09-2 09-1 08 02 01-6 01-5 01-4 01-3 01-2 01-1
September: 29 28 27 25-2 25-1 20-24 23 18 13 12 11-3 11-2 11-1 10-2 10-1 7 4 3-2 3-1 2
August: 31 30 29 28 27 26 25 24 21-22 20 18 17 16 15 14 13 12 10-11-1 9 6 5 3 2 1
July: 31 30 29 17 9 7 6-2 6-1 5-2 5-1 4-2 4-1 2 1
June: 30 24
May: 12 9
April: 25-26 12
March: 7 2
February: 28 26 24 22 21 16-17 15 14 13 10-12 08
May:
April: 11 10-3 10-2 10-1
March:
February:
January: 27 19 13 12 8-2 8-1 7 6 5 3 1-2

2009
December: 31 30 29 28 26-27 24 20-23 19 17-18 16-17 13-14 1-13

2010



---