PART 1: Escape from Vancouver freeze & the Mexico couch surfing experiment - Dec. 13 - Jan. 9 2010
---
Playas de Tijuana, Mexico - December 19, 2009
---

It's 16:00 and I have stayed at the local Starbucks for a few hours updating this blog. A good feeling of accomplishment :) The sun is down and it's time to upload and head back. Tomorrow I am going to Ensenada.



Photo: Playas de Tijuana - Starbucks where I come to work on my photos, this blog and watch people. I am glad these two like what they are reading - otherwise they maybe wouldn't like me taking their photo ;)

Today I woke up earlier. The sound of the ocean is just fantastic. There is no traffic on the road and I am sleeping on the couch in the living room which faces the beach, just a block away. The sound of the waves is the nicest music to my ears right now and falling asleep to it is just what I needed.

It might sound cheesy, especially to someone used to it, but I really missed it. My life was supposed to revolve around the oceans. I went to a Naval Academy, and having a sailor father I grew up having ships, oceans and foreign countries atmosphere always around me. My parents don't realize it, but I wouldn't be here doing what I am doing if not for the influence of my father. I am just happy following my passions, and all the rest with it's ups and downs - it's just life. We are not here to win a prize at the end, but we can make a mark while following our hearts. There is no formula for happiness, and the 'success' can also be a slippery tricky thing - we have examples of it in the news almost every day, as people and their safe houses rise and fall.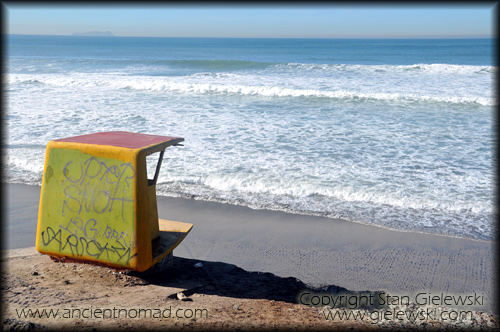 Photo: Playas de Tijuana - At the Beach





My life has always been about freedom and I shall continue to walk this path.
Safe travels ! ........... Stan


---
Check out my Photography Portfolio


Main Page ● Links

---
stan@ancientnomad.com
My Photography Page


2011
November:
October:
September:
August:
July:
June:
May:
April: 11 10-3 10-2 10-1
March:
February:
January: 15 06-11 06-10 06-9 06-8 06-7 06-6 06-5 06-4 06-3 06-2 06-1 05 03-6 03-5 03-4 03-3 03-2 03-1 02
2010
December: 29 23-28 22-2 22-1 20-2 20-1 19 18-2 18-1
November: 01-4 01-3 01-2 01-1
October: 31 23 22 20 17 11 09-2 09-1 08 02 01-6 01-5 01-4 01-3 01-2 01-1
September: 29 28 27 25-2 25-1 20-24 23 18 13 12 11-3 11-2 11-1 10-2 10-1 7 4 3-2 3-1 2
August: 31 30 29 28 27 26 25 24 21-22 20 18 17 16 15 14 13 12 10-11-1 9 6 5 3 2 1
July: 31 30 29 17 9 7 6-2 6-1 5-2 5-1 4-2 4-1 2 1
June: 30 24
May: 12 9
April: 25-26 12
March: 7 2
February: 28 26 24 22 21 16-17 15 14 13 10-12 08
May:
April: 11 10-3 10-2 10-1
March:
February:
January: 27 19 13 12 8-2 8-1 7 6 5 3 1-2

2009
December: 31 30 29 28 26-27 24 20-23 19 17-18 16-17 13-14 1-13

2010



---