PART 1: Escape from Vancouver freeze & the Mexico couch surfing experiment - Dec. 13 - Jan. 9 2010
---
Ensenada, Mexico - December 27, 2009
---

I am still in Ensenada. It is warmer these days and I have been able to stay longer. I got a message from someone in Ensenada about a couch, so I might go there tomorrow and stay for one or two nights. I would go then to San Felipe for two nights, and then North to Mexicali, another three nights. Then back to Tijuana and San Diego for the flight to Vancouver on the 7th.

Ceviche here is fantastic. Really fresh and tasty, with the right amount of spices. Also, I had freshly prepared clamato juice. Awesome.

I just went to Mercado de Mariscos. It's a great place with so many types of fish for sale. Everyone visiting Ensenada should come here. There are sea lions in the harbour, and pelicans too. A great place to hang around on a sunny day, like today.


---
Ensenada, Mexico - December 26, 2009
---

Yesterday, with two other new couch surfers from France, I was invited by Fabricio to spend Christmas with his family. Despite him saying that it is normal for anyone to join and have fun, it was very generous of him and I didn't really see any strangers other than us - the three mochilleros. We had great food, prepared by Fabricio, and then people started what seemed like their all time favorite - karaoke and wine, mezcal, beer or whatever their drink of choice was.

Everyone was really nice to us. I had a great time just observing - I don't know any Spanish songs, and the songs in English I do are impossible to find on karaoke menus. I am also not very good at Mexican dancing.

The time to wish each other Merry Christmas was crazy - a really busy crowd hugging and kissing on the cheek everyone else with 'Feliz Navidad !' It felt like being a member of their family. A strange for me experience since I haven't had a Christmas sharing with so many people in a very long time.

Today I am planning on leaving Ensenada and going to a different city. The place where I stayed was a bit outside of Ensenada, a good walking distance. I tried to find a couch in the city for two nights, but it seems like I will not have one. This is a busy season for people, so I am not surprised to see them having their own plans and no time for couch surfing as they would probably normally do.

Below a few more random photos from Ensenada, Mexico, and area.



Photo: Ensenada - La Bufadora; Blowhole located on the Punta Banda Peninsula 30 kilometers from Ensenada. You can see the water sprayed in the air like from a geyser. It apparently goes much higher when the ocean is a bit rough, and we had a very calm day. La Bufadora is the second largest blowhole in the world, and can shoot upwards as high as 80 feet above sea level.



Photo: Ensenada - Christmas spirit... and Christmas business.



Photo: Ensenada - View from a lookout point.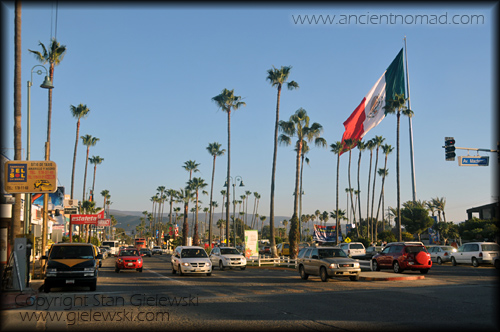 Photo: Ensenada - a street close to downtown.



Photo: Ensenada - Downtown, the touristic area. There are cruise ships coming here on a regular basis bringing mostly tourists from the US.





My life has always been about freedom and I shall continue to walk this path.
Safe travels ! ........... Stan


---
Check out my Photography Portfolio


Main Page ● Links

---
stan@ancientnomad.com
My Photography Page


2011
November:
October:
September:
August:
July:
June:
May:
April: 11 10-3 10-2 10-1
March:
February:
January: 15 06-11 06-10 06-9 06-8 06-7 06-6 06-5 06-4 06-3 06-2 06-1 05 03-6 03-5 03-4 03-3 03-2 03-1 02
2010
December: 29 23-28 22-2 22-1 20-2 20-1 19 18-2 18-1
November: 01-4 01-3 01-2 01-1
October: 31 23 22 20 17 11 09-2 09-1 08 02 01-6 01-5 01-4 01-3 01-2 01-1
September: 29 28 27 25-2 25-1 20-24 23 18 13 12 11-3 11-2 11-1 10-2 10-1 7 4 3-2 3-1 2
August: 31 30 29 28 27 26 25 24 21-22 20 18 17 16 15 14 13 12 10-11-1 9 6 5 3 2 1
July: 31 30 29 17 9 7 6-2 6-1 5-2 5-1 4-2 4-1 2 1
June: 30 24
May: 12 9
April: 25-26 12
March: 7 2
February: 28 26 24 22 21 16-17 15 14 13 10-12 08
May:
April: 11 10-3 10-2 10-1
March:
February:
January: 27 19 13 12 8-2 8-1 7 6 5 3 1-2

2009
December: 31 30 29 28 26-27 24 20-23 19 17-18 16-17 13-14 1-13

2010



---