PART 1: Escape from Vancouver freeze & the Mexico couch surfing experiment - Dec. 13 - Jan. 9 2010
---
San Diego, USA - January 06, 2010
---

Today a whole day in San Diego. Tomorrow the flight, so these are the last few precious moments of warm weather for me. I will go downtown and to the port, to see the old places. This is my third time in San Diego after all.

In the meantime, a few more photos from Ensenada taken randomly during my stay there.

On my last day, yesterday in the morning, I went for ceviche again :) Then again for lunch. This time I had something a little different - usual ceviche on tostada but with a mighty portion of octopus on it. Price - 35 Pesos, so about $2.75. What a healthy and affordable treat ! This was my last chance before leaving.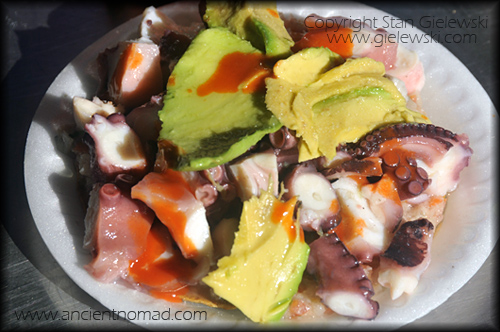 Photo: Ensenada - Ceviche with extra octopus.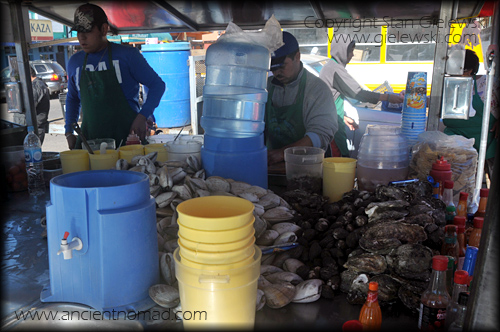 Photo: Ensenada - This is where it was made.

I love pelicans. They are a very cool birds. They usually hang out at the port in Ensenada and wait for some snacks.



Photo: Ensenada - Pelican.

Below a few random photos from Ensenada and Playas de Tijuana.



Photo: Ensenada - Army people going to the check point.



Photo: Ensenada - Worker for the Port of Ensenada.



Photo: Ensenada - A seagull at the port.



Photo: Ensenada - On the way to the city.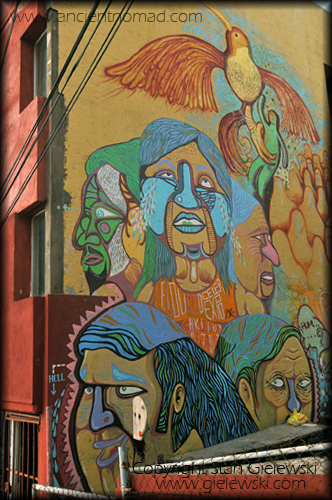 Photo: Playas de Tijuana - A mural.



My life has always been about freedom and I shall continue to walk this path.
Safe travels ! ........... Stan


---
Check out my Photography Portfolio


Main Page ● Links

---
stan@ancientnomad.com
My Photography Page


2011
November:
October:
September:
August:
July:
June:
May:
April: 11 10-3 10-2 10-1
March:
February:
January: 15 06-11 06-10 06-9 06-8 06-7 06-6 06-5 06-4 06-3 06-2 06-1 05 03-6 03-5 03-4 03-3 03-2 03-1 02
2010
December: 29 23-28 22-2 22-1 20-2 20-1 19 18-2 18-1
November: 01-4 01-3 01-2 01-1
October: 31 23 22 20 17 11 09-2 09-1 08 02 01-6 01-5 01-4 01-3 01-2 01-1
September: 29 28 27 25-2 25-1 20-24 23 18 13 12 11-3 11-2 11-1 10-2 10-1 7 4 3-2 3-1 2
August: 31 30 29 28 27 26 25 24 21-22 20 18 17 16 15 14 13 12 10-11-1 9 6 5 3 2 1
July: 31 30 29 17 9 7 6-2 6-1 5-2 5-1 4-2 4-1 2 1
June: 30 24
May: 12 9
April: 25-26 12
March: 7 2
February: 28 26 24 22 21 16-17 15 14 13 10-12 08
May:
April: 11 10-3 10-2 10-1
March:
February:
January: 27 19 13 12 8-2 8-1 7 6 5 3 1-2

2009
December: 31 30 29 28 26-27 24 20-23 19 17-18 16-17 13-14 1-13

2010



---