PART 2: Back to Vancouver - surviving with a goal in mind.
---
Vancouver, Canada - March 7, 2010
---

Today I went for a treat - a late lunch at Stephos. It's a Greek restaurant on Davie Street in Vancouver. A famous place with great food at reasonable prices. I had roast lamb for $9.95. Look at this plate ! It was huge and the photo does not do it justice. The meat was melting in my mouth, the salad was fresh, the roasted potatoes and rice tasty. There was also a nice serving of vegetable stew - you can see just a bit of it between the potatoes and the meat.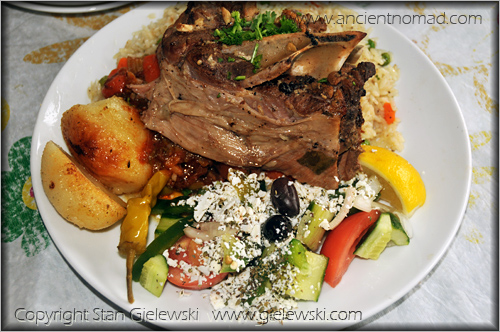 Photo: The massive roast lamb at Stephos on Davie, Vancouver. You get all this for 10 dollars.

Vancouver is a great place for food. If anything, this would be on my list of top few things I like about this city.

Today's dish made me reflect on the Olympics again. The whole event is about friendship and wellness, among other things. This province promotes basically the same, and prides to be the best of the best. Hmmm....

Here is an example of what us ( the workers for the Olympics ) were given to eat. This is actually the best what they had on their rotating every few days menu. Same portions for man and women, and you are expected to last on it 8 to 10 hours. I was lucky to get two portions of this meatless filled with a bit of white cheese lasagna. It was basically, like any other day, carbohydrates with taste added to it. Normally you get only one if you don't ask, and asking does not guarantee that you get more. I know because I asked.



Photo: The best dinner we were offered as the workers for the Olympics.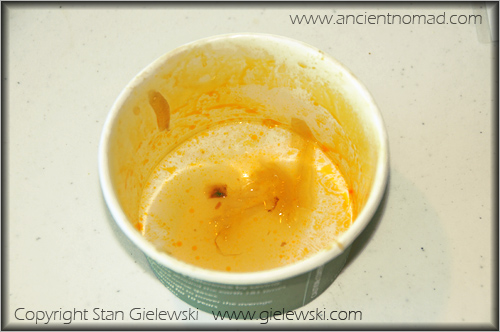 Photo: This is what was left from the onion soup after drinking the onion water. Where are the onions ???

On other days we had a big spoon of rice with meat or chicken stew - quite bad and chicken less. I can safely say that they were probably trying to turn us into vegetarians - Vancouver is in the 'green province' after all. At the same time, we never had fresh veggie salad and the only choice of fruit ( for the the whole 22 days ), was either an orange, an apple or one banana. Oh, I forgot to mention one of their prime main dishes - Kraft's macaroni and cheese.

Now, the icing on the cake - the price. This Olympic dinner had a price tag of 15 dollars. That's right !

Somebody has to be making pretty good money on the Olympic event. So is Stephos restaurant - they prosper and are just as packed with people the same when I was there three years ago. But where would you rather eat - at Stephos for 10 dollars or at the Olympics for 15 ?

My life has always been about freedom and I shall continue to walk this path.
Safe travels ! ........... Stan


---
Check out my Photography Portfolio


Main Page ● Links

---
stan@ancientnomad.com
My Photography Page


2011
November:
October:
September:
August:
July:
June:
May:
April: 11 10-3 10-2 10-1
March:
February:
January: 15 06-11 06-10 06-9 06-8 06-7 06-6 06-5 06-4 06-3 06-2 06-1 05 03-6 03-5 03-4 03-3 03-2 03-1 02
2010
December: 29 23-28 22-2 22-1 20-2 20-1 19 18-2 18-1
November: 01-4 01-3 01-2 01-1
October: 31 23 22 20 17 11 09-2 09-1 08 02 01-6 01-5 01-4 01-3 01-2 01-1
September: 29 28 27 25-2 25-1 20-24 23 18 13 12 11-3 11-2 11-1 10-2 10-1 7 4 3-2 3-1 2
August: 31 30 29 28 27 26 25 24 21-22 20 18 17 16 15 14 13 12 10-11-1 9 6 5 3 2 1
July: 31 30 29 17 9 7 6-2 6-1 5-2 5-1 4-2 4-1 2 1
June: 30 24
May: 12 9
April: 25-26 12
March: 7 2
February: 28 26 24 22 21 16-17 15 14 13 10-12 08
May:
April: 11 10-3 10-2 10-1
March:
February:
January: 27 19 13 12 8-2 8-1 7 6 5 3 1-2

2009
December: 31 30 29 28 26-27 24 20-23 19 17-18 16-17 13-14 1-13

2010



---