PART 3: Back on the road - South East Asia.
---

Route Map
Georgetown, Penang, Malaysia » September 10, 2010
---

Another day and another interesting place - the Snake Temple. It's a Chinese temple with real live snakes living there. These snakes are vipers and are venomous. They call them temple vipers, but the proper name for them is Wagler's Viper. They are pretty calm and laid back, without the usual for other vipers striking and biting reflex. Some of them are usued to being handled and people can take photos with them. These are kept in a terrarium, while the rest hangs out in the open in the trees at the temple.

There is also a snake farm and exhibit next to the temple. They have many snakes there on display, including a big reticulated python. I was lucky to catch the 3 pm snake show, during which the snake keeper kissed a King cobra.

The Snake Temple is located outside Georgetown, but as with all the other places to see in Penang, it's not far away and easy to get there by bus.



Photo: Penang, Malaysia. The Snake Temple.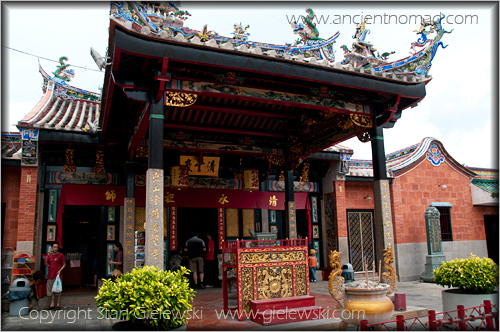 Photo: Penang, Malaysia. The Snake Temple - the entrance. I am excited, ha ha



Photo: Penang, Malaysia. The Snake Temple. People offering prayers at the entrance. The smoke is quite overwhelming, but not as bad as at some street celebrations.



Photo: Penang, Malaysia. Inside the temple.



Photo: Penang, Malaysia. The Snake Temple. Incense and candles offered in prayers.



Photo: Penang, Malaysia. And this is why they call it the Snake Temple. The Wagglers's Vipers are hanging around freely at the altar (the pretty green patterns on the right). These are docile but still venemous snakes, and a person would be in trouble if bitten. These vipers don't have the most potent venom but still, it could be nasty depending on the persons personal reaction. They are very pretty snakes - a pattern of darker and brighter green and yellowish scales. The males are much smaller and less attractive than females. Wagglers vipers bear live young - just like most boas. Pythons and colubrids lay eggs.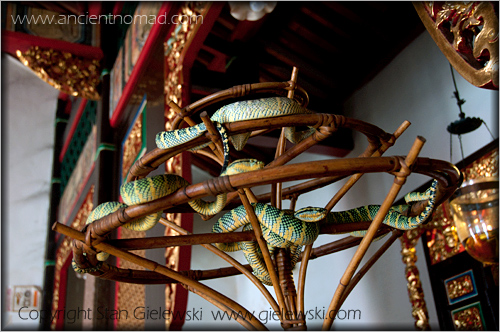 Photo: Penang, Malaysia. The Snake Temple. I really like these snakes. I used to keep and breed a variety of pythons and boas. I've never had any venomous snakes, but I always admired the incredibly coloured and diverse world of vipers, cobras and other venomous serpents. If I ever was to buy one of them, Wagglers viper would be the first on my list to have. Another one, and this one is no joke, a Rhino viper.



Photo: Penang, Malaysia. The Snake Temple. They are in my opinion one of the prettiest of all snakes.



Photo: Penang, Malaysia. There is an old bell at the temple, and of course there are more snakes around. There is a warning displayed telling people not to touch the critters. They call them 'poisonous', which is quite common even amongst native English speakers, but the correct way to describe them is venomous - they have venom glands with venom, not poison. Some frogs are poisonous, the South American dart frogs, and we are all well aware of the poisonous mushrooms and plants.



Photo: Penang, Malaysia. There is a nice garden at the compund of the temple, with trees where more snakes reside.



Photo: Penang, Malaysia. People looking at the temple vipers.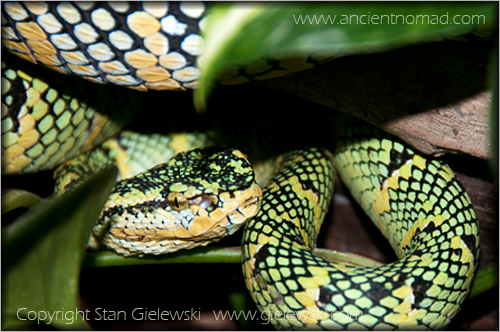 Photo: Penang, Malaysia. Wow... what a pretty snake!



Photo: Penang, Malaysia. This one is yawning. Yawning is the way venomous snakes adjust their fangs and jaws into the right position. They do it often after eating - swallowing large prey temporarily dislocates their jaws and yawning puts all the bones back in place and realigns the joints. Also, the snake on the right has a 'cloudy' eye, which indicates that it will go into shed soon. The eye will become clear and the sake will crawl out of it's old skin in a day or two to show brand new shiny skin. We, humans, also go through the same process, but in a different way. Instead of doing it periodically at once, we do it constantly and gradually, leaving countless flakes behind every day. Yuck!!! Snakes are cleaner than us! And they also poop once every two weeks or so. But most of all, snakes are simply cool, and we are always trying to be cool. How un-cool is it?



Photo: Penang, Malaysia. Adjacent to the Snake Temple is a snake farm. It's not really a farm, but a place with many snakes species on display. They also have snake show starring king cobra.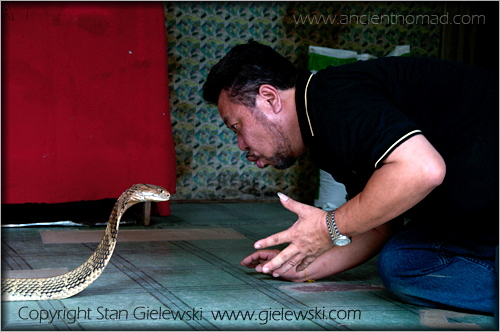 Photo: Penang, Malaysia. Charming a king cobra.



Photo: Penang, Malaysia. King cobras are very intelligent. They can also grow to over 14 feet making them the longest venomous snakes in the world. Big, pretty and intelligent - most people would call it sexy, so why they call them King Cobra? Their venom is not the most potent of all snakes (the most potent belongs to the brown snake from Australia), but when biting they inject large quantities of it making the dose very lethal, in fact enough to kill an elephant. They feed mainly on snakes and are immune to other venomous snakes venom. I think that's why they call them the King of All Snakes.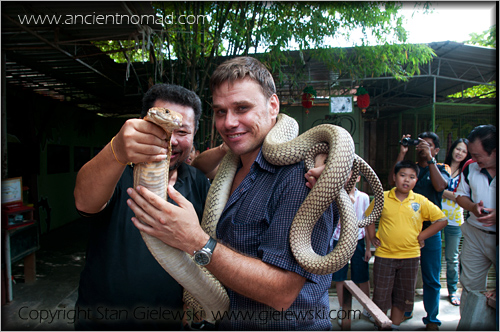 Photo: Penang, Malaysia. Not the very best photo of me but who cares - it is with the King of Snakes! (I wouldn't care much for another king, unless it was a spider king, a fish king, or whatever insect or grass kings and queens are out there on their thrones. I don't care especially about the Queen of Canada, because she is actually the Queen of England. But if she was going to give me a new camera, I would gladly say a grateful 'Thank You')



Photo: Penang, Malaysia. Presenting a water dragon and my new Penang haircut. (plus a Photoshop fixed broken tooth, ha ha. Yep, my smile is way sexier than the one I carry around now. But I will have it done soon enough to be my old me, just like in this teethy photo.)



Photo: Penang, Malaysia. The Snake Temple and snake farm adventure ended with feeding carrots to a lovely turtle. I miss my snakes and turtles, but sometimes you just can't have it all. I am glad to be here now and one day, perhaps, I will have a home again. Until then, dreaming about it and in the meantime living one day at a time cost me less stress than being stuck at home and dreaming about travel watching TV.



Photo: Penang, Malaysia. Insect at the Snake Temple.

We shall all fly away one day...



My life has always been about freedom and I shall continue to walk this path.
Safe travels ! ........... Stan


---
Check out my Photography Portfolio


Main Page ● Links

---
stan@ancientnomad.com
My Photography Page


2011
November:
October:
September:
August:
July:
June:
May:
April: 11 10-3 10-2 10-1
March:
February:
January: 15 06-11 06-10 06-9 06-8 06-7 06-6 06-5 06-4 06-3 06-2 06-1 05 03-6 03-5 03-4 03-3 03-2 03-1 02
2010
December: 29 23-28 22-2 22-1 20-2 20-1 19 18-2 18-1
November: 01-4 01-3 01-2 01-1
October: 31 23 22 20 17 11 09-2 09-1 08 02 01-6 01-5 01-4 01-3 01-2 01-1
September: 29 28 27 25-2 25-1 20-24 23 18 13 12 11-3 11-2 11-1 10-2 10-1 7 4 3-2 3-1 2
August: 31 30 29 28 27 26 25 24 21-22 20 18 17 16 15 14 13 12 10-11-1 9 6 5 3 2 1
July: 31 30 29 17 9 7 6-2 6-1 5-2 5-1 4-2 4-1 2 1
June: 30 24
May: 12 9
April: 25-26 12
March: 7 2
February: 28 26 24 22 21 16-17 15 14 13 10-12 08
May:
April: 11 10-3 10-2 10-1
March:
February:
January: 27 19 13 12 8-2 8-1 7 6 5 3 1-2

2009
December: 31 30 29 28 26-27 24 20-23 19 17-18 16-17 13-14 1-13

2010



---