PART 3: Back on the road - South East Asia.
---
Yogyakarta, Indonesia, July 05, 2010
---

Wow, what a timing! They have a Muslim conference in Yogyakarta and there are many people visiting - just this week. Plus there are groups of school children - their vacation. I couldn't find a hotel around the station, in the Sosrowuayan area. Plus, even if I did, the prices listed in Lonely Planet are way off. The nice cheappie I was after for 40,000 Rupiah charges now 120,000. All the other hotels charge the same or more. I was offered a room for 175. Out of my league. So I went to McDonalds for a 5 AM coffee and to relax. Then a couple hours later a bus to Provorotaman area of Yogyakarta, bus number 2, 2000 Rupiah as usually. The bajay wanted me to pay them 30,000 for this few minutes ride! hahaha But I already know their tricks. In Prawirotaman, after a bit of walking and searching, I found a nice hotel for 75,000, breakfast included (Metro Hotel). I am in a double room, air con (which I don't need but let it run on very low). As always, 'just doing it' works for me :)

I have also already booked the tomorrow trip to Borobudur and Prambanan. Start at 5:00 AM. It takes about an hour to get there, and they open the gate at 6. It cost 85,000 plus the entrance fees, which are quite expensive - $15 and $13. With a small discount, the overall cost came down to 325,000 Rupiah.

Today I will go to see the Sultan's Palace.

And here, a couple of images from the bus trip to Jakarta.



Photo: Somewhere on the way to Jakarta crossong a small town.



Photo: Passing some motorists along the lake.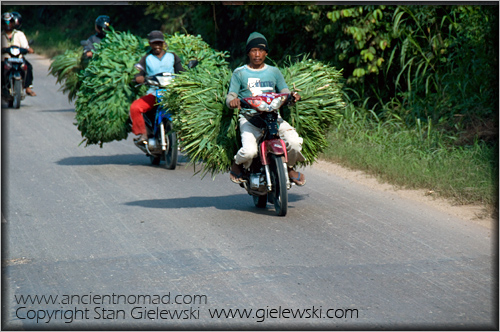 Photo: These riders are quite a common sight. Many people carry many big things, which reminds me of Central and South America... and me in Japan.



Photo: More road warriors.



My life has always been about freedom and I shall continue to walk this path.
Safe travels ! ........... Stan


---
Check out my Photography Portfolio


Main Page ● Links

---
stan@ancientnomad.com
My Photography Page


2011
November:
October:
September:
August:
July:
June:
May:
April: 11 10-3 10-2 10-1
March:
February:
January: 15 06-11 06-10 06-9 06-8 06-7 06-6 06-5 06-4 06-3 06-2 06-1 05 03-6 03-5 03-4 03-3 03-2 03-1 02
2010
December: 29 23-28 22-2 22-1 20-2 20-1 19 18-2 18-1
November: 01-4 01-3 01-2 01-1
October: 31 23 22 20 17 11 09-2 09-1 08 02 01-6 01-5 01-4 01-3 01-2 01-1
September: 29 28 27 25-2 25-1 20-24 23 18 13 12 11-3 11-2 11-1 10-2 10-1 7 4 3-2 3-1 2
August: 31 30 29 28 27 26 25 24 21-22 20 18 17 16 15 14 13 12 10-11-1 9 6 5 3 2 1
July: 31 30 29 17 9 7 6-2 6-1 5-2 5-1 4-2 4-1 2 1
June: 30 24
May: 12 9
April: 25-26 12
March: 7 2
February: 28 26 24 22 21 16-17 15 14 13 10-12 08
May:
April: 11 10-3 10-2 10-1
March:
February:
January: 27 19 13 12 8-2 8-1 7 6 5 3 1-2

2009
December: 31 30 29 28 26-27 24 20-23 19 17-18 16-17 13-14 1-13

2010



---