PART 3: Back on the road - South East Asia.
---
Yogyakarta, Indonesia, July 05, 2010
---

Arrived in Yogyakarta. The trip was uneventful. Yet another night in a chair. The only surprise was when my train reached apparently its final station and it wasn't Yogyakarta. I found out soon that there is a trains change about an hour from Yogya and it's normal. The next train arrived after a few minutes and Yohja was the second stop. The train went on to its final stop at Solo.

I am happy because I will do something really exciting here. I will go to see the temple at Borobodur and another one at Prambanan. It will be very exciting because they are extremely well preserved (except parts of Prambanan got damaged in an earthquake, but all is being repaired). Not only that, they date to Hinduism and Buddhism, the pre-Islamic times of Indonesia. That's tomorrow though, if I get to organizing it.

In the meantime, a few more images from Jakarta.



Photo: My branch before leaving - rice, some veggie's, chillies, coconut curry with a piece of chicken and a bit of veggie's, and the king of the dish - beef rendang in delicious spicy souse (and I have no clue how it's made but I will find out). I have never had this type of beef - it seems like it's first dried then cooked. Very tasty, love chewing it. The price of this deal - 16,000 Rupiah, which is roughly $1.75.



Photo: Another one of my all time favorites - fresh young coconut. I never can get enough of them. One of the most delicious things invented by nature. Drink the tasty coconut water and eat the meat - it's soft and nutritious. Price: 5000 Rupiah, which is about 55 cents. And these here are huge - you are full after just one. I find the smaller ones tastier though. Lots of them in Thailand.



Photo: Jakarta - street traffic.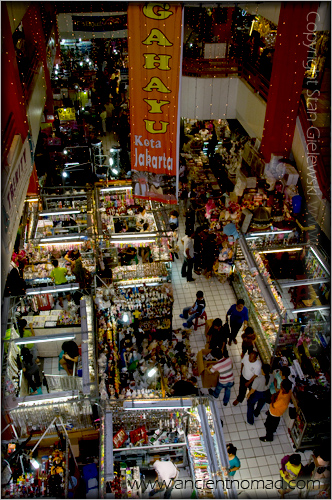 Photo: Jakarta, Mangga Dua - inside a huge building with a few thousand vendors. You can get easily lost in it.



Photo: Jakarta, Gadong. It's Chinatown and tonight turtle's on someone's menu.



Photo: Jakarta - the National Monument.



Photo: Jakarta - afternoon traffic and the motorbikes will find a way.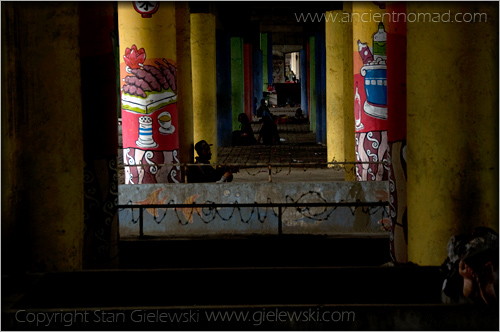 Photo: Jakarta. People living under a bridge.



My life has always been about freedom and I shall continue to walk this path.
Safe travels ! ........... Stan


---
Check out my Photography Portfolio


Main Page ● Links

---
stan@ancientnomad.com
My Photography Page


2011
November:
October:
September:
August:
July:
June:
May:
April: 11 10-3 10-2 10-1
March:
February:
January: 15 06-11 06-10 06-9 06-8 06-7 06-6 06-5 06-4 06-3 06-2 06-1 05 03-6 03-5 03-4 03-3 03-2 03-1 02
2010
December: 29 23-28 22-2 22-1 20-2 20-1 19 18-2 18-1
November: 01-4 01-3 01-2 01-1
October: 31 23 22 20 17 11 09-2 09-1 08 02 01-6 01-5 01-4 01-3 01-2 01-1
September: 29 28 27 25-2 25-1 20-24 23 18 13 12 11-3 11-2 11-1 10-2 10-1 7 4 3-2 3-1 2
August: 31 30 29 28 27 26 25 24 21-22 20 18 17 16 15 14 13 12 10-11-1 9 6 5 3 2 1
July: 31 30 29 17 9 7 6-2 6-1 5-2 5-1 4-2 4-1 2 1
June: 30 24
May: 12 9
April: 25-26 12
March: 7 2
February: 28 26 24 22 21 16-17 15 14 13 10-12 08
May:
April: 11 10-3 10-2 10-1
March:
February:
January: 27 19 13 12 8-2 8-1 7 6 5 3 1-2

2009
December: 31 30 29 28 26-27 24 20-23 19 17-18 16-17 13-14 1-13

2010



---