PART 1: Escape from Vancouver freeze & the Mexico couch surfing experiment - Dec. 13 - Jan. 9 2010
---
Ensenada, Mexico - January 02, 2010
---

A quiet day today. I have been just checking my blog entries, had some ceviche on a tostada and went to Starbucks to upload files, and a couple of photos which I like and which reflect the vibration and feeling of the places I have seen.



Photo: Ensenada - Animals at the port in the evening.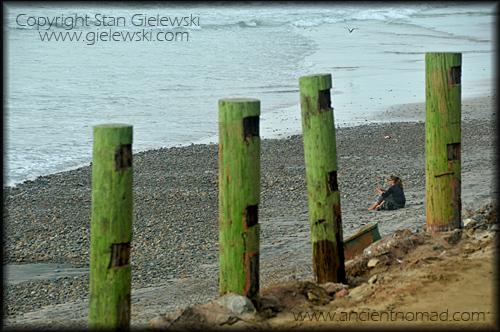 Photo: Playas de Tijuana - I wondered what was on her mind. Perhaps her thoughts were flying over the ocean of Tijuana... Like mine.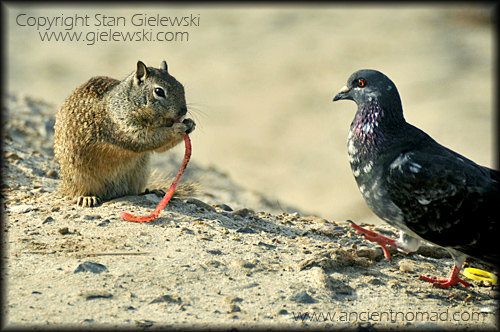 Photo: Playas de Tijuana - Never mind my yellow ring, I want what you're eating !!


---
Ensenada, Mexico - January 01, 2010
---

Hello in 2010 ! Excess is in style, so if you read this I assume that you survived. I wish I had some of this too ( the excess that is of course ), but this time it was a quiet celebration for me. I kind of have a tendency to do things which others don't, and magically New Years makes me always want to stay at home and go to sleep. And that's what happened this year too. I had some food ( click here ), watched a movie and hit the sack. I heard fireworks but I was too lazy to go outside, and with the earplugs in I suffered in silence, ha ha !

I am an extreme person, and that goes without saying. Unless I can go all the way, or even more, I prefer not to do anything. And that's what I think happened this year - I just didn' have that extra fuel.

I am not worrying too much about loosing out on anything. The good part of Mexico, and any Latin American country, is that you will always have another chance to do everything ! :)


Oh, one more thing - don't forget to be a cool cat ( or kitten ) this year ;)



Photo: Cool Cat of Ensenada.



My life has always been about freedom and I shall continue to walk this path.
Safe travels ! ........... Stan


---
Check out my Photography Portfolio


Main Page ● Links

---
stan@ancientnomad.com
My Photography Page


2011
November:
October:
September:
August:
July:
June:
May:
April: 11 10-3 10-2 10-1
March:
February:
January: 15 06-11 06-10 06-9 06-8 06-7 06-6 06-5 06-4 06-3 06-2 06-1 05 03-6 03-5 03-4 03-3 03-2 03-1 02
2010
December: 29 23-28 22-2 22-1 20-2 20-1 19 18-2 18-1
November: 01-4 01-3 01-2 01-1
October: 31 23 22 20 17 11 09-2 09-1 08 02 01-6 01-5 01-4 01-3 01-2 01-1
September: 29 28 27 25-2 25-1 20-24 23 18 13 12 11-3 11-2 11-1 10-2 10-1 7 4 3-2 3-1 2
August: 31 30 29 28 27 26 25 24 21-22 20 18 17 16 15 14 13 12 10-11-1 9 6 5 3 2 1
July: 31 30 29 17 9 7 6-2 6-1 5-2 5-1 4-2 4-1 2 1
June: 30 24
May: 12 9
April: 25-26 12
March: 7 2
February: 28 26 24 22 21 16-17 15 14 13 10-12 08
May:
April: 11 10-3 10-2 10-1
March:
February:
January: 27 19 13 12 8-2 8-1 7 6 5 3 1-2

2009
December: 31 30 29 28 26-27 24 20-23 19 17-18 16-17 13-14 1-13

2010



---