PART 3: Back on the road - South East Asia.
---
Jakarta, Indonesia, July 02, 2010
---

Yesterday I went online and made a rough plan for the next month or so. I will fly out of Indonesia on the 20th of July. I will go to Kota Kinabalu, which is in Sabah, Malaysia, then through Brunei, I will reach Sarawak and fly out of there, from Kuching, on the 9th of August, to Kuala Lumpur. Back there, I will apply for the new passport. So, I have about 20 days now on Java, then 18 on Borneo, and then about 20 on mainland Malaysia to explore while waiting for the passport to arrive. There should be lots to do, and this time I am planning to dive in at least two places.

Today a bit of exploring Jakarta. It's a huge city. There are many contrasts here - the modern sky scrapers of the business district, and the back alleys and small streets of Glodok, Sunde Kalepa, and other parts which I happened to see by chance and don't even know exactly what they are.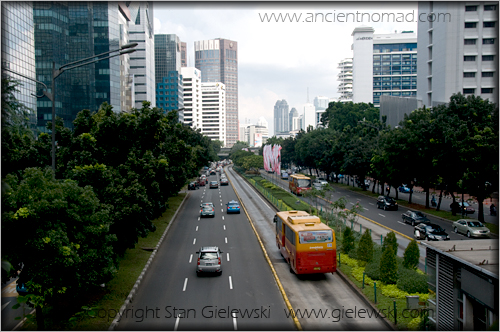 Photo: Just one of the views of the main street where the Trans Jakarta buses go. The red bus is the Trans Jakarta bus. It has its own designated lane, so it is the fastest way to go across Jakarta during the traffic. Regular buses cost 2000 Rupiah, and this bus cost 3500. A bit more expensive but it is worth it. It is also air conditioned and with security rides along with you. By the way, all bus fares are the same no matter where you go.



Photo: Same street, another location.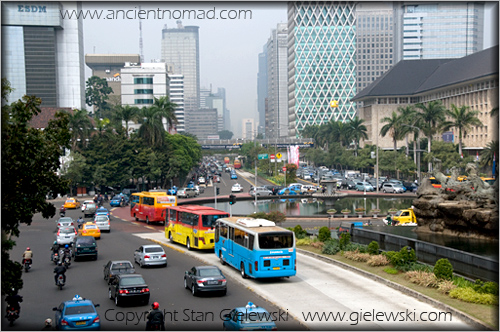 Photo: And another location.



Photo: Here the older Jakarta. This is around Look, which is Chinatown and still on the main Trans Jakarta route.



Photo: Many streets in Jakarta look similar to this, but outside the center, with those high rise buildings, this usually changes to something less colorful once you wander a little away from the main street.



Photo: This is around Sunde Kalepa, port with traditional wooden ships. Most of these small buildings are shops selling supplies for the ships, but people also live in them.



Photo: Sunde Kalepa.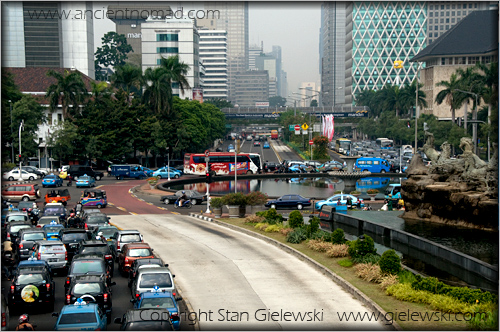 Photo: Here, the last photo to give you an idea of how big the city it. This is only a view towards the business district, so a very small area of the whole Jakarta.



Photo: Same place but looking in the opposite direction.

The city really stretches in any direction you would go. It is the biggest Muslim city in the world, and Indonesia is the biggest Muslim country in the World. Physically, the country itself is also huge. The image of all the thousands of scattered islands, which make Indonesia, can be deceiving. Sumatra for example is more than 2000 kilometers from the tip to the bottom. Then Java, Kalimantan, and all the other islands. Without flying it will take days to cross the whole country, which is a distance just as big as West to East Canada or the US.

Being a Muslim country, hearing the preyers blasting from megaphones at certain times is just a part of life here. They were waking me up every day at around 4:15 AM in Butikkinggi, and on Jalan Jaksa where I am staying in Jakarta (close to the shopping place and the Trans Jakarta bus stop sharing the same name - Sarinah). An interesting twist to it is that in reality Jakarta is not this strict city run by religion (as you would assume). There are hundreds of bars here, massage parlors, drinking places, and although I had just a taste of it and no big chance to really explore it, apparently Jakarta is a real fun city. One area worth checking out is Blok M. I haven't been there yet, but I will try to see what it's about when I come back to Jakarta before flying to Malaysia.



My life has always been about freedom and I shall continue to walk this path.
Safe travels ! ........... Stan


---
Check out my Photography Portfolio


Main Page ● Links

---
stan@ancientnomad.com
My Photography Page


2011
November:
October:
September:
August:
July:
June:
May:
April: 11 10-3 10-2 10-1
March:
February:
January: 15 06-11 06-10 06-9 06-8 06-7 06-6 06-5 06-4 06-3 06-2 06-1 05 03-6 03-5 03-4 03-3 03-2 03-1 02
2010
December: 29 23-28 22-2 22-1 20-2 20-1 19 18-2 18-1
November: 01-4 01-3 01-2 01-1
October: 31 23 22 20 17 11 09-2 09-1 08 02 01-6 01-5 01-4 01-3 01-2 01-1
September: 29 28 27 25-2 25-1 20-24 23 18 13 12 11-3 11-2 11-1 10-2 10-1 7 4 3-2 3-1 2
August: 31 30 29 28 27 26 25 24 21-22 20 18 17 16 15 14 13 12 10-11-1 9 6 5 3 2 1
July: 31 30 29 17 9 7 6-2 6-1 5-2 5-1 4-2 4-1 2 1
June: 30 24
May: 12 9
April: 25-26 12
March: 7 2
February: 28 26 24 22 21 16-17 15 14 13 10-12 08
May:
April: 11 10-3 10-2 10-1
March:
February:
January: 27 19 13 12 8-2 8-1 7 6 5 3 1-2

2009
December: 31 30 29 28 26-27 24 20-23 19 17-18 16-17 13-14 1-13

2010



---