PART 3: Back on the road - South East Asia.
---
Kuta, Bali, Indonesia, July 09, 2010
---

Yesterday I arrived in Bali. It was a long bus ride and a short ferry ride. Then more bus and I got to Denpasar at almost midnight. This is probably the worst time to arrive in Bali. Schools are on vacation, people are on vacation, and many of them from Jakarta come to Bali at this time. Prices are higher, and there are no vacancies at the hotels. I couldn't find one in Denpasar, but I did in a small close by town, which feels like extention of Denpasar - Kuta. At 80,000 it's not bad, since all the other places want over a 100 or 150, which is too much for a backpacker like me.

I was tired so I decided to take it easy today. My knee is also hurting from bending it too much getting off the bus. I walked barefoot on the beach and tried to absorb a little what this place is about. Well, part of it, since there seems to be two faces of Kuta (and Bali) life - beach during the day, bars and girls at night.

Today I rented a scooter and went to explore the island. Bali is small, and you can get anywhere you want having your own transportation. I am going to have a scooter for two days. Then I will go to Tulamben, where there is a sunken American ship from the World War II - Liberty. It is supposed to be an awesome dive site, and I am going to dive there. Then I will stay a few days in Lovina, where I've heard is cheaper and plenty of fresh seafood, and back to Kuta on the 19th to fly back to Jakarta to catch a plane heading to Kota Kinabalu in Borneo.

Below a few quick shots of Kuta - first impression.



Photo: Kuta, Bali - the beach.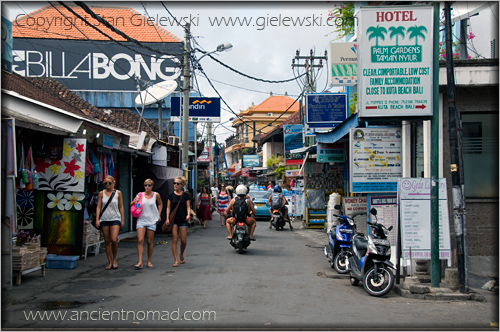 Photo: Kuta has many small streets full of shops, bike rental places, hotels, bars - a really touristy place. Tourists around every corner.



Photo: Wherever you will go in Kuta there will be someone asking you if you want to rent a scooter, need transport, taxi, dinner or massage.



Photo: Kuta is bars, girls, food, drink and beach.



Photo: The usual Kuta - white tourists (lots Australians) on scooters.



Photo: And the other Kuta again - beach and surfing. Surfing and the beach. Beach and bars, drink, wake up, surf. There is a bar where you get to drink all you can Heineken from 6 - 9 PM for 50,000 Rupiah. That's about five dollars!

Kuta has small roads, one main road with all the night action - drinking, dancing etc., another street by the beach which also has places to eat, drink, McDonalds, and the beach. What to do in Kuta - surf, have a beer or massage on the beach, go to the hotel, and at night go eat, drink, dance and mingle. From what I have seen Denpasar is the same and lots more, less the beach.

My life has always been about freedom and I shall continue to walk this path.
Safe travels ! ........... Stan


---
Check out my Photography Portfolio

Main Page ● Links

---
stan@ancientnomad.com
My Photography Page


2011
November:
October:
September:
August:
July:
June:
May:
April: 11 10-3 10-2 10-1
March:
February:
January: 15 06-11 06-10 06-9 06-8 06-7 06-6 06-5 06-4 06-3 06-2 06-1 05 03-6 03-5 03-4 03-3 03-2 03-1 02
2010
December: 29 23-28 22-2 22-1 20-2 20-1 19 18-2 18-1
November: 01-4 01-3 01-2 01-1
October: 31 23 22 20 17 11 09-2 09-1 08 02 01-6 01-5 01-4 01-3 01-2 01-1
September: 29 28 27 25-2 25-1 20-24 23 18 13 12 11-3 11-2 11-1 10-2 10-1 7 4 3-2 3-1 2
August: 31 30 29 28 27 26 25 24 21-22 20 18 17 16 15 14 13 12 10-11-1 9 6 5 3 2 1
July: 31 30 29 17 9 7 6-2 6-1 5-2 5-1 4-2 4-1 2 1
June: 30 24
May: 12 9
April: 25-26 12
March: 7 2
February: 28 26 24 22 21 16-17 15 14 13 10-12 08
May:
April: 11 10-3 10-2 10-1
March:
February:
January: 27 19 13 12 8-2 8-1 7 6 5 3 1-2

2009
December: 31 30 29 28 26-27 24 20-23 19 17-18 16-17 13-14 1-13

2010



---