PART 1: Escape from Vancouver freeze & the Mexico couch surfing experiment - Dec. 13 - Jan. 9 2010
---
Blaine, USA - January 08, 2010
---

12:20. After arriving in Blaine I am at the Peace Arch State Park. I understand it is supposed to be a monument dedicated to peace between Canada and USA. From here, a walk through the park and then to the border crossing.



Photo: Blaine. Peace Arch State Park.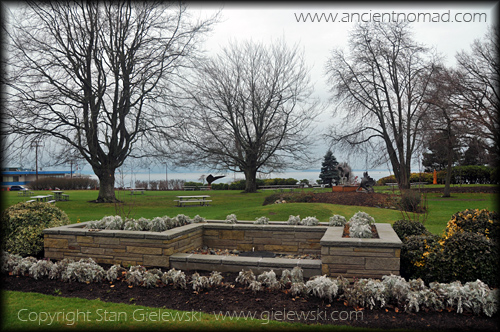 Photo: Blaine. Peace Arch State Park.



Photo: Blaine. Peace Arch State Park - The Arch.



Photo: Blaine - The Peace Arch. Cars lining up to cross from Canada to the USA.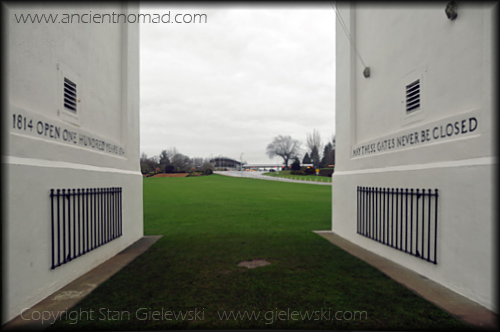 Photo: Blaine - Look through the Arch at the Canadian border crossing. The words written on the left - '1814 OPEN ONE HUNDRED YEARS 1914'. On the right - 'MAY THESE GATES NEVER BE CLOSED'.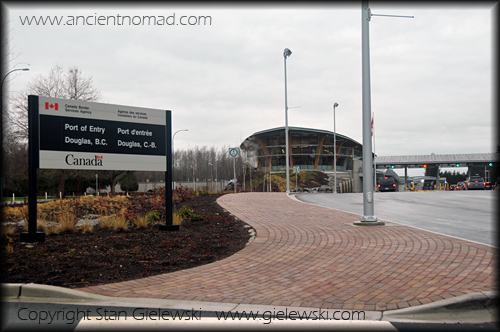 Photo: Blaine - border crossing to Canada.


---
Blaine, USA - January 08, 2010
---

10:43. It stared to rain a bit. A sign of Vancouver getting closer. I just hope it will stop when I have to walk.

10:53. It stopped :)


---
Blaine, USA - January 08, 2010
---

10:24. The ride to Blaine takes a bit over an hour, so I took out the laptop. Here I am, on a warm bus :)

It is actually better than the expensive shuttle. I am used to traveling on the cheap, taking local buses, and now I am doing it the same way. It feels good. I can see more. If I only had the money I would go on. I was looking at the map, and I would love to go to Alaska and back. Maybe not a good idea in winter, so perhaps it is good that I can't afford it. It has to be beautiful right now out there. That's the kind of winter I wouldn't mind to see. And Antarctica of course.



Photo: On the bus #55 from Bellingham to Blaine.


---
Bellingham, USA - January 08, 2010
---

Good morning :)

The night has passed and I am on my way to Canada. It was a little hard sleeping on the bench, but I slept on worse. No problem. ( the hardest was five nights up and down Rio Paraguay in Paraguay )

I have been trying to figure out how should I make this last stretch of the trip. I decided to take a Grayhound bus from Bellingham. I walked the same old road between the airport and the public transport, about a mile long. This time no snow and warmer. Still chilly though. Then the WTA bus arrived. While talking to one woman and the bus driver, asking for information, I decided to go through with my original plan - to take a public bus to Blaine and then walk across the border. I was afraid that it will rain, but the sky seems to be ok. The Grayhound would take me right to Vancouver, but I don't know the schedule. Also, it cost 28 dollars I think. By comparison, the bus to Blaine is only one dollar. Then a walk - about a kilometer on the US side and 5 or 6 on the Canadian side, and I will be able to take the public transport there for 5 dollars. So, the trip should be 8 dollars at the end instead of 28. Plus the adventure and experience of doing it ( it would cost me another dollar but I got a free lift to the bus 55 stop )

Right now I am at the Cordata Station in Bellingham waiting for bus number 55, which is supposed to leave at 10:00 - in 5 minutes. If all goes well, my next entry will be from Canada.


---
Bellingham, USA - January 08, 2010
---

Arrived in Bellingham. The boarding was smooth and the flight was smooth as well. Actually, despite all the talk in the news, there has been no change after this fortunately failed attempt to blow up an airplane on Christmas day. Maybe because this was a domestic flight ? Perhaps only international flights from certain countries are under more scrutiny.

It is much warmer here than on December 13 th. Everything was covered in snow then - now chilly but above zero.

I was told that there will be a shuttle going to Vancouver at 22:25. Right now is 23:20 and no sight of the bus. So I will be sleeping here. There is no other place to go. Actually, even if I ended up today in Vancouver, it would be after 1 AM. No Skytrain, no buses. So perhaps my Bellingham Airport sleep-over is for the best. I also have wireless internet here.

Tomorrow I will take a local bus to Blaine - a small town close to the border. I will walk from there, then walk more - a few kilometers - to a Canadian public bus stop. I just don't get why there are no public buses coming close to the border. On both sides ! I will also have hard time getting from Bellingham to Blaine. I think there are no frequent buses connecting these two towns. I will try, and if I can't make it - there will be a Grayhound bus going to Vancouver during the day. It seems like neither US nor Canada are interested in making this crossing easier for ordinary people. There are so many Americans doing business in Canada. Our economies depend on each other. Many people here and there have double citizenship. Even Mulroney, the Canadian ex prime minister, lives in the US now ! I would imagine that this should make us closer. These things are so much easier in any of the countries I visited in Central and South America. There is even public transportation right to the Mexican border in San Diego.

Anyway, that's the plan for tomorrow. Now I will watch a program about top 21 sexiest beaches ( as they called them ) in the world, and dream.

So, this is what's happening right now. Good night.





My life has always been about freedom and I shall continue to walk this path.
Safe travels ! ........... Stan


---
Check out my Photography Portfolio


Main Page ● Links

---
stan@ancientnomad.com
My Photography Page


2011
November:
October:
September:
August:
July:
June:
May:
April: 11 10-3 10-2 10-1
March:
February:
January: 15 06-11 06-10 06-9 06-8 06-7 06-6 06-5 06-4 06-3 06-2 06-1 05 03-6 03-5 03-4 03-3 03-2 03-1 02
2010
December: 29 23-28 22-2 22-1 20-2 20-1 19 18-2 18-1
November: 01-4 01-3 01-2 01-1
October: 31 23 22 20 17 11 09-2 09-1 08 02 01-6 01-5 01-4 01-3 01-2 01-1
September: 29 28 27 25-2 25-1 20-24 23 18 13 12 11-3 11-2 11-1 10-2 10-1 7 4 3-2 3-1 2
August: 31 30 29 28 27 26 25 24 21-22 20 18 17 16 15 14 13 12 10-11-1 9 6 5 3 2 1
July: 31 30 29 17 9 7 6-2 6-1 5-2 5-1 4-2 4-1 2 1
June: 30 24
May: 12 9
April: 25-26 12
March: 7 2
February: 28 26 24 22 21 16-17 15 14 13 10-12 08
May:
April: 11 10-3 10-2 10-1
March:
February:
January: 27 19 13 12 8-2 8-1 7 6 5 3 1-2

2009
December: 31 30 29 28 26-27 24 20-23 19 17-18 16-17 13-14 1-13

2010



---