PART 1: Escape from Vancouver freeze & the Mexico couch surfing experiment - Dec. 13 - Jan. 9 2010
---
Ensenada, Mexico - December 31, 2009
---

The last day of the year - want it or not. It is closing a chapter in our lives. I am not really sure if it is much different from any other day of the year, but just having everyone talking about it, the fact that I will have to write 2010 instead of 2009 in a day makes it for an impact. Let's see what will happen in the next 365 days.

I never like to wish all the happiness and prosperity - it's too cliché. For myself, I just hope the following Year will not be worse than the previous one. The possibilities are endless. Life can change to better at an instant. And if anything else fails for a moment - there is always the hope.

So, never forget to dream and have hope. The rest will work out. Let's have a Year with surprises and let's make it to be not worse than the one we are just going to leave behind !

Stan



Here is my 2010 New Year's Eve kit: fresh ( still warm ) tortillas, avocado, limes, salsa, a chunk of smoked marlin and a couple of Tecate local beers.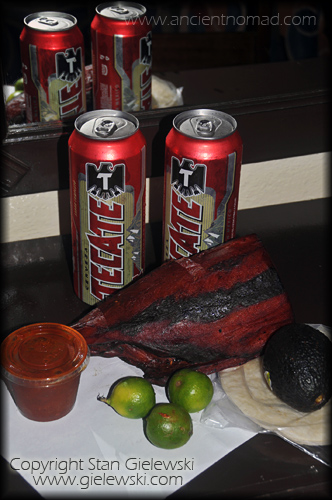 Photo: Ensenada - My 2010 New Year's Eve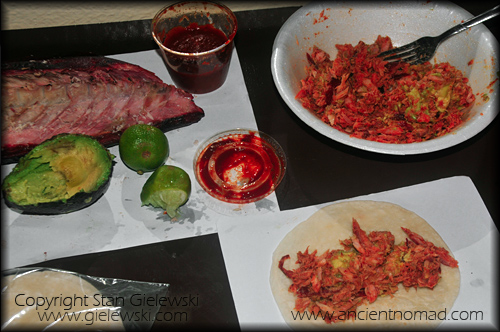 Photo: Ensenada - After the use of my skilled tools: hands and a fork - ready to eat !! Yummy :)

Fish, be it fresh or smoked, is very cheap here in comparison to Canada. I paid $4 for 750 grams ( 1.5 pounds ) of this fresh very well smoked marlin. Tuna cost the same. I mixed chunks of the fish with salsa and lime and wrapped it in tortilla. Simple but good :)

When buying the fish I asked the guy which salsa should I get for it ( all these people have samples and I had no clue what is the mix ). He gave me a few names: huichol, guacamaya, salsa amor, salsa avanera, tamasula. I found one called salsa chipote - and it fit right in. I bet all these are fantastic. I will try them out another time.


---
Ensenada, Mexico - December 30, 2009
---

I am doing nothing, just taking it easy at the hotel with nachos, Oaxaca cheese and Tecate. Time to check internet and upload files.



My life has always been about freedom and I shall continue to walk this path.
Safe travels ! ........... Stan


---
Check out my Photography Portfolio


Main Page ● Links

---
stan@ancientnomad.com
My Photography Page


2011
November:
October:
September:
August:
July:
June:
May:
April: 11 10-3 10-2 10-1
March:
February:
January: 15 06-11 06-10 06-9 06-8 06-7 06-6 06-5 06-4 06-3 06-2 06-1 05 03-6 03-5 03-4 03-3 03-2 03-1 02
2010
December: 29 23-28 22-2 22-1 20-2 20-1 19 18-2 18-1
November: 01-4 01-3 01-2 01-1
October: 31 23 22 20 17 11 09-2 09-1 08 02 01-6 01-5 01-4 01-3 01-2 01-1
September: 29 28 27 25-2 25-1 20-24 23 18 13 12 11-3 11-2 11-1 10-2 10-1 7 4 3-2 3-1 2
August: 31 30 29 28 27 26 25 24 21-22 20 18 17 16 15 14 13 12 10-11-1 9 6 5 3 2 1
July: 31 30 29 17 9 7 6-2 6-1 5-2 5-1 4-2 4-1 2 1
June: 30 24
May: 12 9
April: 25-26 12
March: 7 2
February: 28 26 24 22 21 16-17 15 14 13 10-12 08
May:
April: 11 10-3 10-2 10-1
March:
February:
January: 27 19 13 12 8-2 8-1 7 6 5 3 1-2

2009
December: 31 30 29 28 26-27 24 20-23 19 17-18 16-17 13-14 1-13

2010



---