PART 2: Back to Vancouver - surviving with a goal in mind.
---
Vancouver, Canada - February 21, 2010
---

My days here, since February, have been pretty uneventful actually - going to work, coming back, and working on the computer updating the blog. I have neglected a little my photography portfolio, but I will catch up.

These few photos represent what I have been doing: hiding behind the computer screen and my every day walk to work - the BC Stadium.



Photo: Vancouver. Hiding behind my notebook.

This is the Cambie Bridge. I have to cross it every day as the buses - as usually in Vancouver - come in packs or don't come at all. So I have to take this route almost every day to and from work on foot. It's bothersome when I am tired, but OK if I think of it as an exercise after standing all day. Actually, Vancouver has the most expensive and useless at the same time public transportation from all the places I have seen so far. In my humble opinion, most of the 'third world countries' I visited in Central and South America are so much easier to get around. Bolivia, for example, was fantastic. There is almost no waiting time there for a bus or any other form of transportation there - except maybe late hours at night. You can hop on a big or a small bus, a van or a trufi (a taxi which offers shared rides), anywhere and anytime you wish. Even across the border, Bellingham or Seattle or wherever you go - bus drivers are helpful and genuinely friendly, which is a rare thing in Vancouver. The whole downtown in Seattle is a free ride zone and if you have to pay - it's cheap. Just a couple days ago I walked to the hotel at night. There are two buses on Broadway which go where i go - 99 and 9. The 99 is express and unfortunately will not stop close to my intersection, but he 9 does. You would think that during the Olympics, especially, they would try to organize it somehow to accommodate people and make a good impression on the visitors and the world. Nope, doesn't happen. During my 18 minuets walk I had four 99 buses pass me, and not even one number 9 bus ! And the 9 bus which I saw left when I was just a few meter behind it running to catch it ! The drivers here don't pay attention to people, they provide a very lousy customer service and it seems to be a norm in Vancouver. You would think they would try harder making around 43 dollars an hour while the minimum wage in British Columbia (frozen since 2000 and currently the lowest in the whole of Canada in this most expensive Canadian city) is still at 8 dollars per hour.

Yes, Vancouver's public transportation sucks.

Anyway, below are a few pics of what I see when I go to work.



Photo: Vancouver. Cambie Bridge and BC Stadium, going North from Broadway.



Photo: Vancouver. Already on the Cambie Bridge..



Photo: Vancouver. Cambie Bridge. Police cars parking lot on the right.



Photo: Vancouver. Closer to the crossing above the water.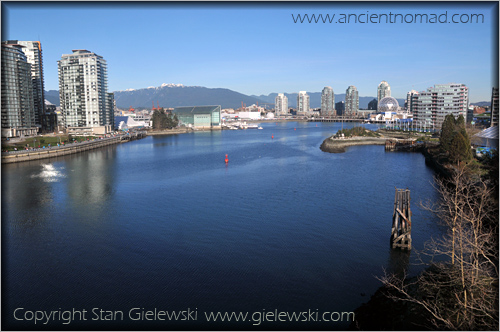 Photo: Vancouver. A view from the bridge - facing North-East. The silver ball is the Science World, a place with a variety of hands-on exhibits for mostly children but also interesting to adults.



Photo: Vancouver. Almost on the other side.



Photo: Vancouver. The stairs in the middle lead to the entrances to the Stadium and the Games.



Photo: Vancouver. Security tents for screening people.



Photo: Vancouver. This is where I get screened when I come for work.

My life has always been about freedom and I shall continue to walk this path.
Safe travels ! ........... Stan


---
Check out my Photography Portfolio


Main Page ● Links

---
stan@ancientnomad.com
My Photography Page


2011
November:
October:
September:
August:
July:
June:
May:
April: 11 10-3 10-2 10-1
March:
February:
January: 15 06-11 06-10 06-9 06-8 06-7 06-6 06-5 06-4 06-3 06-2 06-1 05 03-6 03-5 03-4 03-3 03-2 03-1 02
2010
December: 29 23-28 22-2 22-1 20-2 20-1 19 18-2 18-1
November: 01-4 01-3 01-2 01-1
October: 31 23 22 20 17 11 09-2 09-1 08 02 01-6 01-5 01-4 01-3 01-2 01-1
September: 29 28 27 25-2 25-1 20-24 23 18 13 12 11-3 11-2 11-1 10-2 10-1 7 4 3-2 3-1 2
August: 31 30 29 28 27 26 25 24 21-22 20 18 17 16 15 14 13 12 10-11-1 9 6 5 3 2 1
July: 31 30 29 17 9 7 6-2 6-1 5-2 5-1 4-2 4-1 2 1
June: 30 24
May: 12 9
April: 25-26 12
March: 7 2
February: 28 26 24 22 21 16-17 15 14 13 10-12 08
May:
April: 11 10-3 10-2 10-1
March:
February:
January: 27 19 13 12 8-2 8-1 7 6 5 3 1-2

2009
December: 31 30 29 28 26-27 24 20-23 19 17-18 16-17 13-14 1-13

2010



---